Wichita — Lawrence High thrower Rebecca Finley was one throw away from winning the 6A state discus championship when the second-place competitor unleashed a huge final toss.
Photo Gallery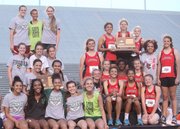 2013 Class 6A state track and field finals
A few seconds later, Rebecca settled for second place, then gave a huge hug to the winner.
That's what sisters do.
LHS sophomore Matia Finley won bragging rights for the year in dramatic fashion, uncorking a throw of 139 feet, 11 inches to snatch the victory away from her twin sister.
"She always takes first place from me, so I had to win it back," Matia said with a smile.
Rebecca's second throw of 135 feet, 7 inches earned the silver, as it was still three feet better than any opponent behind her.
Rebecca couldn't help but be proud of her sister's accomplishment. Matia's toss was more than three feet farther than her previous personal record (136 feet).
"As soon as I saw the throw, I knew it had beaten mine," Rebecca said. "I saw the smile on her face, so I was really excited."
Rebecca, who was battling a right ankle injury and practiced only twice earlier in the week, was just inches off her own PR.
Both sisters improved from a year ago, when Matia was fourth and Rebecca was sixth.
"The last month of practice, both of them have been more focused, more dedicated, more determined, and they've quickly become two of the most coachable kids I've ever coached," LHS coach Jack Hood said. "And that's saying something, because I've had a lot of really good kids that I've worked with. These two listen and try and do."
The Finleys' performance set the stage for an exciting finish, as LHS claimed third place as a team on the last event of the meet.
The 4X400 team of Leah Gabler, Marissa Pope, Jensen Edwards and Kyleigh Severa won by five-hundredths of a second over Shawnee Mission East, taking the title with a time of 4:02.47.
Getting those 10 team points were crucial, as it moved the LHS girls to 44, just ahead of fourth-place Garden City (42).
"We were really hoping to do this," Edwards said. "It's just crazy to think we have two more years to hopefully do the same thing."
The sophomore Edwards opened up a 30-meter lead heading into the last lap for Severa, who was nearly caught by East's Emma Vickers — 6A's 400 champion — on the final straightaway.
"I could hear the crowd getting louder and louder, meaning that the girl behind me was getting close," Severa said. "I was just putting my head down and telling myself, 'You can do it. Just finish strong and drive through.'"
It was just enough, as Severa earned the victory — though even she wasn't sure until seeing the final results on the scoreboard.
LHS's two titles Saturday were the 92nd and 93rd in school history.
The other top-five LHS performance came from Grace Morgan in the 1600. The senior, who entered the meet seeded 11th, moved up to fourth with a time of 5:19.71.
---
State track meet
Saturday at Cessna Stadium
Wichita
City results
Class 6A
Girls team results: Free State 94, Olathe East 81.5, Lawrence 44, Garden City 42, Gardner-Edgerton 37.5, Maize 35.5, SM East 35, Wichita East 29, Manhattan 25, Derby 24, Olathe Northwest 24, Olathe North 22, Wichita Northwest 20.5, Junction City 20, Olathe South 20, SM West 20, Wichita Southeast 19, Blue Valley North 16, SM North 16, Topeka 12, Blue Valley Northwest 12, SM Northwest 9, Blue Valley West 8, Hutchinson 8, Wichita South 8, Dodge City 6, Wichita Heights 6, Washburn Rural 4, Blue Valley 3.
Boys team results: Topeka 70, Olathe South 61, Olathe East 60, Garden City 48, SM Northwest 47, Blue Valley 47, Blue Valley North 38, SM East 33, SM North 28, Manhattan 28, Dodge City 27, SM West 23, Blue Valley Northwest 21, Wichita South 20, Wichita Heights 19, Blue Valley West 16, Free State 15, Gardner-Edgerton 14, Olathe North 12, Hutchinson 12, Wichita East 10, Haysville Campus 9, Washburn Rural 7, Maize 7, Wichita Southeast 6, Lawrence 5, Olathe Northwest 5, Derby 5, Wichita Northwest 5, Wichita North 1, Junction City 1.
Free State
Girls
100 hurdles — 1. Alexa Harmon-Thomas, 14.11; 6. Kiara Clark, 15.72; 7. Gabbi Dabney, 15.89.
4x800 — 15. Free State (Molly McCord, Morgan Noll, Christina Craig, Claire Sanner) 10:26.03.
Javelin — 4. Scout Wiebe, 129-05.
1600 — 1. Bailey Sullivan, 5:12.29.
400 — 3. Laura Kennard, 59.03.
Triple jump — 11. Brianne Martin, 33-10.75.
300 hurdles — 1. Alexa Harmon-Thomas, 42.70; 3. Kiara Clark, 46.17.
800 — 2. Bailey Sullivan, 2:22.64.
200 — 4. Laura Kennard, 26.89.
4x400 — 6. Free State (Bailey Sullivan, Mika Crews, Kiara Clark, Laura Kennard) 4:14.56.
Boys
Pole vault — 4. Dan Krieger, 14-00.
Long jump — 12. Demarko Bobo, 20-2.50.
1600 — 6. Stan Skwarlo, 4:26.84.
Discus — 6. Nicholas Hocking, 152-09.
800 — 6. Stan Skwarlo, 1:58.66.
Lawrence
Girls
Javelin — 10. Monica Howard, 110-7.
Discus — 1. Matia Finley, 139-11; 2. Rebecca Finley, 135-07.
1600 — 4. Grace Morgan, 5:19.71.
4x100 — 8. Lawrence (Alex Hilliard, Kyleigh Severa, Marissa Pope, Jensen Edwards) 50.34.
4x400 — 1. Lawrence (Leah Gabler, Marissa Pope, Jensen Edwards, Kyleigh Severa) 4:02.47.
Boys
100 prelims — 12. J.D. Woods, 11.42.
Long jump — 16. Erik Parrish, 18-05.50
Copyright 2018 The Lawrence Journal-World. All rights reserved. This material may not be published, broadcast, rewritten or redistributed. We strive to uphold our values for every story published.