After three years of public wrangling over how many school buildings Lawrence should have and how best to operate them, voters in the Lawrence school district will finally have their say when they go to the polls on Tuesday.
At issue is a $92.5 million bond proposal that would enable the district to keep all 14 neighborhood elementary schools open by refurbishing older schools in central and east Lawrence, adding more classroom space and modernizing buildings to make them more secure and energy efficient.
Of that, $80.3 million would go for construction, repairs and enhancements at the 14 elementary schools. Details of the plans for each building can be viewed on the school district website.
It also includes $6.5 million for technology enhancements to allow more online learning, and another $5.7 million to expand career and technical education programs for high school students.
To put the size of the bond issue in perspective, it's nearly four times larger than the $25 million the city of Lawrence plans to spend building a new recreation center — described as the largest city-funded construction project in many years.
And it's two and a half times larger than the district's 1994 bond issue for $36.9 million that was used to build Free State High School.
Compared with recent bond issues by other school districts, state officials say the Lawrence district's bond proposal is on the upper end of the scale.
"It's above average because it's an above-average (size) school district," said Dale Dennis, the state deputy education commissioner for school finance.
He noted that in 2012 the Blue Valley school district in Johnson County issued $271 million in bonds. And the largest in recent memory was a $284.5 million bond issue for the Wichita school district in 2000.
Indications so far point to fairly broad public support for the Lawrence bond proposal.
A survey that the Lawrence school board commissioned last fall, before it voted to put the bond issue on the ballot, showed solid majority support for the concepts contained in the bond issue: 54 percent supported upgrading all 14 elementary schools; 58 percent favored districtwide technology improvements; 58 percent approved of expanding career and technical education; and 69 percent supported improving school security.
The Lawrence Chamber of Commerce has publicly endorsed the ballot measure. And a political action committee called Yes for Lawrence led by Democratic Rep. Paul Davis and Republican Insurance Commissioner Sandy Praeger reportedly raised about $15,000 for a campaign to convince voters to vote yes.
"We feel pretty good about the chances that it'll pass," Davis said. "The comments seem very positive from the people I've talked to in the community. And I know a lot of people on the campaign have been out knocking on doors and going to different events trying to promote the bond issue, and they're generally getting very positive responses from people."
The most visible opposition has come from the conservative political action group Americans for Prosperity — Kansas. Jim Mullins, an organizer for that group, said at a recent forum that he supports the career and technical education piece, but believes the district has excessive fund balances that it could use instead of asking voters for more bonding authority.
In December, the seven-member board voted unanimously to put the bond issue on the ballot. And all four of the candidates running for seats on the board say they strongly support it.
Impact on taxes
District officials and supporters of the bond issue have promoted it as a "no tax increase bond," meaning if it's approved, it will not result in a property tax increase.
Officials say that's possible because the bonds would be issued in phases over the next three years at the same time the district is retiring some older bonds. The plan would be comparable to a family buying a new car at the same time their loan on an older car is paid off, resulting in the family continuing to pay out the same amount of money for monthly car payments.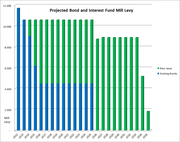 Others have argued that it nevertheless would constitute a tax increase because without the new bonds the taxes levied by the district for debt service payments would go down.
The district's current budget includes a tax levy of 10.624 mills in property tax for its bond and interest fund. A mill is $1 of tax for every $1,000 in assessed valuation.
In Kansas, residential property is assessed at 11.5 percent of its fair market value. So the owner of a home valued at $100,000 pays taxes on $11,500 of that value. Thus, that owner pays $11.50 for each mill of property tax levied. That translates to $122.18 for the school district's 10.624-mill bond and interest levy.
School board members concede, however, that the mill levy is sometimes influenced by factors beyond the board's control. For example, property values in the district could go up or down from one year to the next. And the district does not yet know exactly what interest rate it will have to pay on any new debt.
But board member Shannon Kimball said at a recent forum that even if the bond and interest levy were forced to increase, the board could offset that by cutting the mill levy for its "capital outlay" fund, a separate fund used to pay for routine big-ticket expenses such as roof and furnace replacements or new computers.
"We're committed to making sure that those adjustments maintain our commitment that this be a no-tax-increase bond issue," Kimball said.
Bonds instead of school closures
The public debate leading up to the bond proposal actually began around 2009 when the state of Kansas began cutting school funding in response to the economic downturn.
Enrollment projections at that time were forecasting declining numbers in some older schools in central and east Lawrence where it was felt that some buildings were already underutilized.
In 2010, the board established a community task force to make recommendations about how the district's elementary schools should be configured in the future. The final report from that group recommended consolidating six elementary schools in east and central Lawrence into three or four.
The schools involved included Sunset Hill, Hillcrest, Pinckney, Cordley, Kennedy and New York.
That report also called for issuing bonds to refurbish the three or four buildings that would remain.
Meanwhile, the district did close Wakarusa Valley School, and it closed the East Heights Early Childhood Family Center, moving the district's preschool program into Kennedy School.
The board then formed a Consolidation Working Group, made up of community members and staff mainly from those schools to come up with a specific plan for carrying out those recommendations.
In February 2012, however, that group recommended not closing any buildings and instead issuing bonds to upgrade and modernize all 14 elementary schools.
Since then, the school board has not looked back, and in December the board voted unanimously to put the $92.5 million bond proposal on the ballot.
That decision still raises questions by some in the community who say the district should not have taken closure and consolidation completely off the table.
But board member Rick Ingram, responding to one such question at last week's town hall meeting, said there was little to be gained by that idea because operating one large building does not cost substantially less than operating two smaller ones.
"The only way you get any operational savings is if you lay off teachers," Ingram said. "If you want to lay off teachers, you increase class sizes. You can get some administrative savings if you don't lay off teachers, but you're talking about a lot of high-risk kids, low-income kids, and they're going to need a whole lot more services."
Education news
Have a story idea?
Contact Journal-World education reporter Elliot Hughes:
ehughes@ljworld.com
Copyright 2018 The Lawrence Journal-World. All rights reserved. This material may not be published, broadcast, rewritten or redistributed. We strive to uphold our values for every story published.