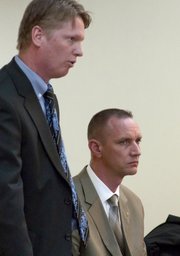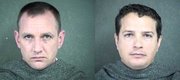 Franklin County Sheriff Jeff Curry was charged in Franklin County District Court with a felony count of interfering with law enforcement, as well as a misdemeanor count of official misconduct, during his first court appearance Wednesday.
Curry, along with Franklin County Sheriff Deputy Jerrod Fredricks, was arrested last week by KBI special agents.
Curry is free on a $3,000 bond and remains sheriff, but is prevented from possessing a firearm, and prosecutors have begun the process of removing him from office.
Fredricks, also charged with a felony count of interfering with law enforcement, did not make a first appearance Wednesday, but is scheduled to appear in court with Curry for a preliminary hearing on April 1.
Former Butler County District Court Judge John Sanders was appointed as a special judge and will be handling the criminal cases, as well as the civil case attempting to remove Curry from office.
Todd Hiatt, an assistant district attorney from Shawnee County, has been appointed as a special prosecutor in the case at the request of Franklin County Attorney Stephen Hunting, who filed the civil case — known as an "ouster proceeding" — to remove Curry from office. Records for the ouster case have been sealed by a Franklin County judge.
Curry's ouster hearing is scheduled for March 14. Prosecutors, at that time, can ask Sanders to suspend Curry from his duties.
Details about the case remain scarce.
According to the criminal complaint, Curry is accused of using confidential information gained through his office for his or another person's gain, or to cause harm to another, on May 30, 2012, and then making false statements to investigators on Sept. 27, 2012.
Fredricks, who served as public information officer for the sheriff's office, is accused of making false statements on Oct. 5, 2012, after the investigation had been made public. The circumstances of these alleged incidents remain unclear, however.
Both were booked into the Wyandotte County Jail last week but quickly posted bond.
Curry was appointed sheriff in 2010, and was elected to the post in the November general election.
* To view the criminal complaint against Curry, click here. To see Fredrick's criminal complaint, click here.
Copyright 2018 The Lawrence Journal-World. All rights reserved. This material may not be published, broadcast, rewritten or redistributed. We strive to uphold our values for every story published.