The Sunflower Music Festival in Topeka gives the area an opportunity to attend concerts performed by artists from around the world — for free.
Beginning Friday music lovers can attend 10 concerts worth of classical, chamber and jazz music in White Concert Hall at Washburn University.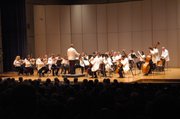 Program Schedule
The Sunflower Music Festival will be held June 7-15 at White Concert Hall at Washburn University. All concerts begin at 7:30 p.m. except for the Blanche Bryden High School Concert, which begins at 3 p.m. June 15. All concerts are free for the public to attend.
June 7: Chamber Orchestra
June 8: Chamber Ensembles
June 9: Atrium Quartet
June 10: Jazz Concert
June 11: Chamber Ensembles
June 12: Chamber Orchestra
June 13: Blanche Bryden Collegiate Institute
June 14: Chamber Ensembles
June 15: Blanche Bryden High School Concert, 3 p.m. and Chamber Orchestra, 7:30 p.m.
Myrl Duncan, the President of the Sunflower Music Festival Board, said what makes the festival that full of talented musicians unique is that its been free since it started in 1987.
"We've got audience members who've been coming for years — decades — and they can come every night and every year," Duncan said. "And a lot of the musicians have been coming for years and years, so they form a real camaraderie between musicians and the audience, and it's kind of like a family reunion but there's a whole lot of music."
The concerts are performed by a small orchestra of about 45 musicians and smaller ensembles made up of the orchestra members. Two of the concerts will also feature college and high school musicians participating in the Blanche Bryden Sunflower Music Festival Summer Institute, which is a week-long camp of intensive study in chamber music.
"I think people kind of think, 'oh goodness, how good can this be in Topeka?' and newcomers just walk away stunned at the quality of the music," Duncan said. "Part of it's the concert hall, but most of it is just the excellent musicians."
Although the institute has some students from Kansas and Missouri, most of the participating musicians come from across the United States and one quartet is coming from as far as Berlin.
The musicians receive their music a few months in advance and rehearse individually. Once they get to Topeka, they have limited rehearsal time before performances — something Duncan says is a representation of the talent the musicians possess.
"They can come in with a few practices and pull off this stunning music," Duncan said.
Artistic Director Charles Stegeman recruited the performers and chose which pieces would be performed, including music by Beethoven, Mozart, Haydn and Brahms.
Duncan said seating, especially at the orchestra concerts, tends to fill up quickly, and audience members should plan to arrive about an hour before the concert starts.
For a full program of all concerts and more information about the festival, visit the event's website.
Copyright 2018 The Lawrence Journal-World. All rights reserved. This material may not be published, broadcast, rewritten or redistributed. We strive to uphold our values for every story published.