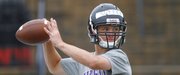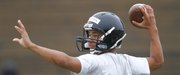 It has been awhile since Lawrence High football coach Dirk Wedd had to worry about picking a starting quarterback. The past three seasons, the presence of Brad Strauss eliminated the need for an all-out competition.
Now, with the award-winning Strauss off to play at Northwest Missouri State University this fall, the coveted position finally is up for grabs at LHS. But four days of camp this week weren't nearly enough for Wedd to decide between the Lions' top two candidates, senior-to-be Tucker Sutter and rising sophomore Alan Clothier.
While Sutter has been around the program longer, Wedd made it clear seniority won't win him the spot: "He's got to step up. There's nothing given out here."
Of course, neither Sutter nor Clothier would be asked to torch the Sunflower League. Wedd's primary concern will be that his new quarterback keep the offense from making mistakes.
"We're gonna be a different kind of animal," Wedd said, "and we're not gonna expect the quarterback to rush for a thousand yards and throw for 2,500."
No stranger to Friday night battles, Sutter started at strong safety for Lawrence in 2012. However, as a quarterback, much more will be expected. Sutter said he feels mentally ready to carry the load, and he already has begun fine-tuning his leadership at camp, as he and Clothier take snaps and try to win the job.
"Your competitive side comes out, and you get a little mad sometimes," Sutter admitted. "But we're working together and just helping each other out, and the coaches are helping a lot, as well."
Clothier said he and Sutter don't feel competitive. They often talk about the position and help each other out, because they want to make the team better.
And though Clothier (6-foot, 175 pounds) has a little size on Sutter (5-11, 170), the sophomore is still trying to figure out what it takes to lead a team, know every player's responsibility and keep everybody in line.
"It's been a lot. Learning all the plays, trying to get it all down. And trying to not mess up as much," Clothier said with a grin.
When Sutter has a tough play or two, he said a pair of LHS veterans, seniors Drew Green and Kieran Severa, have helped his confidence.
"We'll look to them to be really big leaders this year," Sutter said, "as well as Kyle (Wittman) and some other guys."
Severa, a receiver and safety, said the experienced Lions understand the challenging situation facing Sutter and Clothier.
"This week (of camp) is so important for them," Severa said, "because they really need to get all their things smoothed out before the contact camp (Sunday and Monday at Emporia State)."
Green, a running back and linebacker, said the new quarterbacks have opened some eyes while stepping into Strauss' former position, but both realize there is plenty of room for improvement.
"They have confidence in themselves that they can do some of the same things he did, and hopefully we improve in the running game, and that will help them out a lot," Green said. "All the focus was on Brad last year, and if we can get the focus on about everybody else, that'll help the quarterback out."
Wedd expects a large offensive line, led by Wittman, Alex Jones and others, as well as the running backs and receivers, to lessen the load on the quarterback, whoever that may be.
"They don't have to win football games for us," Wedd said of Sutter and Clothier. "They just have to put us in position to give us an opportunity to win. That means you don't have to make big plays. There's nobody in the state of Kansas that can replace Brad Strauss."
Copyright 2018 The Lawrence Journal-World. All rights reserved. This material may not be published, broadcast, rewritten or redistributed. We strive to uphold our values for every story published.