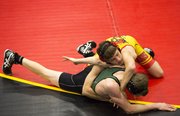 Lawrence High's wrestling team began its Senior Night Wednesday with a comeback victory in a dual against Blue Valley Southwest, but couldn't replicate the late-match heroics in a loss to Baldwin.
The Lions, ranked No. 8 in Class 6A, won four of the last five contested matches against BVSW, and pinfall victories by junior Jeff Wescoat (160 pounds), freshman Alan Clothier (170), senior Andrew Denning (182) and junior Alex Jones (285) allowed them to escape with a 36-34 victory.
In another tough spot against Baldwin, trailing by 16 points with three contested weight classes left, Clothier scored a win by decision, Denning secured his second first-round pin of the evening, and Jones closed the night with his second pinfall. But Lawrence fell, 40-27, in part because of its three open weight classes, which spotted the Bulldogs 18 points.
That excuse didn't fly with LHS coach Pat Naughton, though.
"Baldwin came up here, and they came with a purpose, and they accomplished it," Naughton said. "There's no getting around that. Even if you give up three weight classes or whatever, you can't take away what those kids came out here to do."
If anything, Naughton said, the Lions weren't mentally prepared.
"Maybe some of our guys took it a little lackadaisical," the coach said, "with them having a couple different kids in the lineup."
Baldwin coach Kit Harris said his team, like Lawrence, has dealt with sickness and injuries lately.
"I've got seven freshmen and sophomores starting," Harris said, "but this is a good team effort. We've had a lot of good things happen for us."
The Bulldogs won five of six matches at LHS between the 126- and 160-pound weight classes. Harris said a 1-0 victory for Jon Pratt (126) against Garrett Girard, Bryce Shoemaker's pinfall win over Lynch (138), a 7-4 decision for Owen Tuckfield (145) against Sean McCoy and Jason Von Bargen's 18-1 technical fall at 160 versus Wescoat all made a difference in the Baldwin victory.
"I'm excited. It's a big deal, you know," Harris said. "We're a small school, about a hundred kids a grade, and a lot of kids started wrestling at grade seven or grade nine, and they work really hard. We stress fundamentals and conditioning and being disciplined and getting smart points and staying in good position."
Lynch, who was honored between the duals with the rest of Lawrence's Class of 2013 (Tim Thongone, Hunter Haralson and Denning) for Senior Night, said the Lions couldn't feel overly disappointed about their loss, because they weren't blown out and they only were pinned in one of their five setbacks.
"We didn't know, really, what Baldwin had as we were coming in," Lynch said. "The open matches just gave them the upper edge."
Although the senior scored six points for LHS with a pin against BVSW, he had to face Shoemaker, the No. 1-ranked 138-pounder in Class 4A, in his second match and ended up getting pinned in the third period. Lynch and Shoemaker have been friends for years, but it was the first time they faced each other on the mat.
"I knew it was coming," Lynch said of a difficult match. "He's a great wrestler."
Lawrence trailed BVSW, 22-12, before taking control late. Naughton said Wescoat got it started with his first-round pin.
"Jeff wrestled really well," Naughton said. "It was just a matter of time, with him finding his right spot to make his move, and he capitalized on it."
After Clothier, who has been sick this week, won via pinfall, another ill Lion, Denning, gave his team three straight pins with a victory that took all of 15 seconds.
"He's been kind of the highlight of this year," Naughton said after a dominant night by Denning, who began the season at 160, "and he's really taken to moving into the 182-pound class. I think he likes it there, and he's a found a home there."
The Lions trailed 34-30 entering their final match against BVSW. Then Jones delivered a clutch win, locking his hands around the neck and left leg of Austin Lawrence in the second round, then forcing his opponent's back to the mat and igniting an LHS celebration.
"He is just so strong with his whole body," Naughton said. "He's lifting those 285-pound guys just like water."
Copyright 2018 The Lawrence Journal-World. All rights reserved. This material may not be published, broadcast, rewritten or redistributed. We strive to uphold our values for every story published.