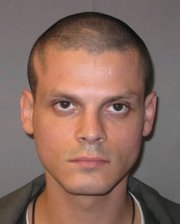 A 35-year-old Lawrence man is being held on a $200,000 bond at the Douglas County Jail after he missed a court appearance in Johnson County.
Jeremy Ray Kriner was arrested Friday evening in the 1300 block of New Jersey on a warrant from Johnson County. Kriner, who is charged in Johnson County with numerous crimes, including aggravated battery against police, felony gun possession and criminal threat, was free on a $100,000 bond when he failed to show to a court hearing.
Kriner spent time in the Kansas prison system for a wide variety of crimes committed in Douglas County, including drug possession, battery and criminal use of a weapon.
* To view recent LJWorld crime stories, click here.
Copyright 2018 The Lawrence Journal-World. All rights reserved. This material may not be published, broadcast, rewritten or redistributed. We strive to uphold our values for every story published.