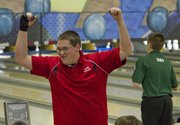 Lawrence High's girls bowlers took first place and the LHS boys were second in the LHS Invitational on Thursday at Royal Crest Lanes.
The Lions' Kierstan Warren rolled a high game of 237 during a 612 series, both top scores in the girls competition. Rebecca McNemee had a 235 game and a 575 series for second place. And Zoe Reed's 512 series was fourth.
The LHS girls won with 2,192 pins, followed by Lansing with 1,923 and De Soto with 1,186.
Lawrence High's Tre Sexton bowled games of 237, 201 and 202 for a 640 series, good for second place in the boys division. Connor Daniels had a 585 series, and Austin Bennett had a 547 series.
Lansing won the boys competition with 2,396 points, followed by Lawrence with 2,310 and De Soto with 2,018.
Copyright 2018 The Lawrence Journal-World. All rights reserved. This material may not be published, broadcast, rewritten or redistributed. We strive to uphold our values for every story published.