Shawnee — It didn't take Shawnee Mission Northwest's girls basketball team long Tuesday night to show Lawrence High why the Cougars are one of the top teams in the Sunflower League.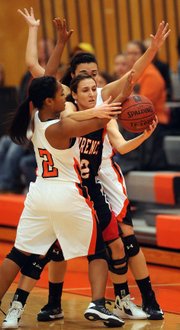 The Cougars blitzed the Lions out of the gate, turning pressure defense into easy layups, and cruised to a 72-35 victory at SMNW.
Less than six minutes into the rout, the Lions (1-5) found themselves in a 24-0 hole as Shawnee Mission NW starters Arielle Jackson, McKayla Ross, Anna King and Brenni Rose feasted on 11 LHS turnovers. All four Cougars players had four points or more before Lawrence, which missed its first six field goals, got on the scoreboard with a Kionna Coleman turn-around jumper with 2:09 left in the first quarter.
"We didn't handle their pressure very well at all, really," Lawrence coach Nick Wood said. "And they came out and punched us in the gut. It was tough."
With the Cougars (7-1) in total control so early in the game, coach Jeff Dickson had five substitutes on the floor before LHS ended its difficult opening quarter by hitting four of its last five shots — senior Bri Anderson scored twice in the final minutes and senior Kylie Seaman hit a three-pointer.
Still, SMNW entered the second quarter leading 26-11.
"At that point, it's a character issue," Wood said. "What are we gonna do about it? Are we gonna feel sorry for ourselves or are we gonna get together and fight?"
The Lions coach was glad to see his team improve in the following minutes. LHS actually out-scored the Cougars, 12-11, in the second quarter, behind five points from Coleman, a basket from Anna Wright, an Emma Kelly three and an Anderson free throw.
But SMNW continued to extend its lead throughout the third quarter, as Ross (game-high 15 points) set the tone with seven third-quarter points and King (13 points) secured five of her game-high 11 rebounds. Anderson gave LHS its only two third-quarter field goals as the Lions got stuck on 26 points for several minutes and trailed 56-26 entering the fourth.
Anderson finished with 10 points and seven rebounds and Coleman had 12 points and five boards.
Lawrence, on a three-game losing skid, fell to Olathe Northwest in its previous game and will play host to Olathe South on Friday. Meanwhile, the Lions are without sophomore point guard Marissa Pope (injured right foot).
"Those are the top teams in the league," Wood said of Lawrence's current three-game stretch. "We've just got to make sure we stick together and keep battling through this week. Then everything else will settle down and we'll be a better team because of these experiences."
— A previous version of this story has been updated. Lawrence has lost three straight games.
Copyright 2018 The Lawrence Journal-World. All rights reserved. This material may not be published, broadcast, rewritten or redistributed. We strive to uphold our values for every story published.