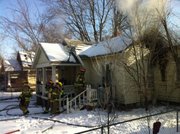 Fire crews responded to a house fire at 1132 New York St. shortly before 8:45 a.m. Sunday.
No injuries were reported, but portions of the home sustained heavy damage.
When they arrived, firefighters reported seeing heavy black smoke. Working in 14-degree temperatures, firefighters brought the blaze under control within about 25 minutes of their arrival.
According to Lawrence-Douglas Fire Medical Division Chief Lyle Schwartz, the estimated damage is $70,000. Schwartz said the fire started when a piece from a wood stove came apart from the house and ignited the attic.
Copyright 2018 The Lawrence Journal-World. All rights reserved. This material may not be published, broadcast, rewritten or redistributed. We strive to uphold our values for every story published.