A 55-year-old Lawrence man has been arrested as a suspect in Wednesday afternoon's bank robbery at Midwest Regional Credit Union, 1015 W. Sixth St.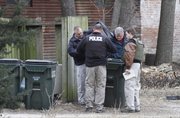 Larry Eugene Martin was arrested Wednesday night shortly after 6 p.m. in the parking lot of Dillons, 1015 W. 23rd St., according to Sgt. Trent McKinley, a Lawrence Police Department spokesman. Police identified Martin as a suspect a few hours after the robbery occurred at 12:10 p.m., and officers found Martin at the supermarket by locating his vehicle.
Some of the evidence leading police to Martin came from interviews with witnesses, McKinley said. Investigators also found physical evidence, including clothing that police believe was used in the robbery, in trash cans near the bank.
Martin's criminal record in Douglas County goes back to at least 2004, when he was found guilty of attempting to elude police officers. In 2009, he pleaded guilty to harassment by telephone. Most recently, he was charged in August with burglary, theft and criminal use of a financial card in connection with a burglary of a vehicle. Martin is scheduled to appear in court on those charges in March.
Police typically do not disclose the amount of money stolen in a bank robbery, but McKinley said Wednesday's robbery was not exceptionally successful.
"None of these are huge amounts of money, by any standard," McKinley said.
McKinley said it is still not known whether a weapon was used in the robbery, or whether the credit union robbery was related to last Wednesday's robbery of Lawrence Bank, 100 E. Ninth St.
• To view recent LJWorld crime stories, click here.
• Click here to view the weekly arrest log.
Copyright 2018 The Lawrence Journal-World. All rights reserved. This material may not be published, broadcast, rewritten or redistributed. We strive to uphold our values for every story published.