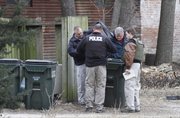 Lawrence police responded to a bank robbery early Wednesday afternoon at Midwest Regional Credit Union, 1015 W. Sixth St.
Police are seeking a white male, about 5-foot-7, who was last seen leaving the bank south on Maine Street on a bicycle, wearing a blue KU jacket and carrying a backpack, said Sgt. Trent McKinley, a Lawrence Police Department spokesman.
Bank employees activated an alarm as soon as the man entered the bank, McKinley said, because the man was wearing a ski mask and dark glasses. The man demanded money and bank employees complied, filling the backpack with bills. But the employees also placed an exploding dye pack in the bag, and a witness reported to police that the dye pack burst as the man was leaving the bank. McKinley said the robber's backpack, and possibly his clothing, are likely to be stained with orange or red ink.
Police are still seeking a suspect and are questioning anyone matching the description, McKinley said. About 45 minutes after the 12:15 p.m. robbery, police officers focused on a trash can in an alley in the 700 block of Illinois St., removing some bags and dusting the lid for fingerprints. Police have not yet said what they found.
It is not known whether a weapon was used in the robbery, or if today's incident was related to last Wednesday's robbery of Lawrence Bank, 100 E. Ninth St. McKinley said police are continuing to investigate that robbery as well.
Anyone with information is asked to call 843-TIPS (8477).
• To view recent LJWorld crime stories, click here.
• Click here to view the weekly arrest log.
Copyright 2018 The Lawrence Journal-World. All rights reserved. This material may not be published, broadcast, rewritten or redistributed. We strive to uphold our values for every story published.