Police and the FBI have offered a $1,000 reward for information leading to the arrest of a suspect in the Wednesday afternoon robbery of Lawrence Bank, 100 E. Ninth St.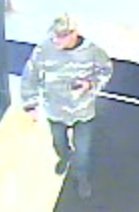 The robbery was reported about 4:45 p.m. Wednesday, after a man entered the bank alone, showed employees a handgun, and demanded cash, said Sgt. Trent McKinley, a Lawrence Police Department spokesman. Witnesses said the suspect fled on foot, headed north on New Hampshire Street.
Detectives investigating the robbery Wednesday evening said employees complied with the man's demands for money. After examining video, police said the suspect was described as a white male in his 30s, about 5-foot-7 and of average build. Earlier reports describing the suspect's clothing were contradictory, McKinley said. Lawrence police will investigate the robbery along with the FBI.
It's been more than a year since a bank robbery was reported in Lawrence. The last occurred when Central National Bank, 603 W. Ninth St., was robbed twice, on July 14 and Nov. 30, 2011. Elliott Reid Werner, 26, pleaded guilty to those robberies in December and was sentenced to more than nine years in prison.
The cash reward for information is offered by law enforcement through Crimestoppers. Anyone with information is asked to call 843-TIPS (8477).
• To view recent LJWorld crime stories, click here.
• Click here to view the weekly arrest log.
Copyright 2018 The Lawrence Journal-World. All rights reserved. This material may not be published, broadcast, rewritten or redistributed. We strive to uphold our values for every story published.