After Lawrence High guard Jake Mosiman picked up his third foul in the first minute of the second half, coach Mike Lewis chose to leave the senior on the court.
Photo Gallery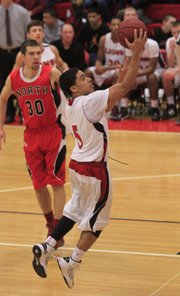 Lawrence hIgh boys vs. Shawnee Mission North
That decision ended up paying off over the next 2 1/2 minutes.
The senior Mosiman scored LHS's next seven points to break a tie and put the Lions up for good, helping LHS to a 71-53 victory over Shawnee Mission North on Senior Night at LHS.
"He's a guy who can get hot pretty quick," Lewis said. "He's been good for us all year, so it's not a surprise that he had that stretch. But no doubt, it gave good momentum."
Mosiman posted a three, a steal and a two, then a jumper to turn a 35-all tie into a 42-35 LHS lead.
In his final home game, Mosiman contributed 18 points on 7-for-17 shooting with five rebounds and three steals.
"I saw gaps open up," Mosiman said. " ... My teammates were great, passing the ball and driving the lane."
Mosiman — one of five seniors for LHS — checked out for the final time at home with 1:28 left.
The 6-foot guard said he had goosebumps walking to the sideline while seeing friends and parents give him a final ovation.
"Jake came up big," LHS freshman guard Justin Roberts said. "It was a good way for him to go out (at home)."
Roberts, who didn't start because five seniors were in the opening lineup, made an immediate impact after being subbed into the game.
The 5-foot-9 point guard scored 13 first-quarter points, making five of seven shots with a pair of steals.
"My shot started falling, which is great," Roberts said. "I was just focusing on my shot, so I'm just glad it went in."
LHS pulled away with defense in the second half, making a halftime adjustment to switch more often on ball screens.
After scoring 33 points in the first half, North mustered just 20 after halftime.
"We sputtered a little bit, but then we got on a good roll in the second half and played as a team and put up some points," Lewis said.
Roberts finished with a team-high 23 points, making 10 of 17 field goals and three of five three-pointers. He also added six rebounds and four steals.
LHS (12-7) won without making a free throw, going 0-for-3 from the line. North finished 21-for-29 from the stripe.
Austin Abbott, Sterling Fuller, Drake Hofer and Derrick Williams were the other seniors that joined Mosiman in the starting lineup. Each player scored in Tuesday's game.
"They've been in our program now through the good and the bad," Lewis said. "They're guys who are very loyal."
Copyright 2018 The Lawrence Journal-World. All rights reserved. This material may not be published, broadcast, rewritten or redistributed. We strive to uphold our values for every story published.