Inches away from achieving hero status Tuesday night at Lawrence High, sophomore Anthony Bonner, like his teammates, cringed for a moment after his last-second, half-court heave missed to the right, allowing unbeaten Shawnee Mission South (Class 5A's No. 1 team) to escape The Jungle with a 49-48 boys basketball victory.
Photo Gallery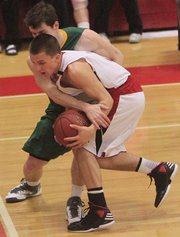 Lawrence High boys basketball vs. SM South
The Lions had just spent 32 minutes pouring every ounce of energy they had into what would've been a signature victory, and it was hard for them to see the positives of their play in that moment — even though they led by as many as five points in the opening minute of the fourth quarter and continued to battle the Raiders (17-0) to the final horn.
With 10 seconds to play, and the game tied at 48, sophomore SMS guard DeAngelo Bruster drove all the way to the paint, drawing a fifth foul on Lawrence's Jake Mosiman with three seconds on the clock. Bruster, who scored eight of his team-high 14 points in the fourth, left his first free throw short, to the delight of the LHS home crowd.
Lawrence coach Mike Lewis proceeded to call a timeout before Bruster's second free throw, giving him plenty of time to consider the consequences of missing. But Bruster, who had made just two of his five free throws up to that point, drained the one his team needed most, putting Lawrence in a one-point hole.
LHS senior Drake Hofer threw an inbounds pass to Bonner, whose long strides allowed him to cross half court with two dribbles.
"As soon as I took my first dribble, I thought I had a chance," Bonner said after scoring a game-best 19 points on 6-for-9 shooting. "I jumped up and the defender could've blocked my shot, so I had to adjust. I just couldn't get it."
While the Lions (11-6, No. 4 in 6A) entered the locker room devastated, a few minutes to reflect on what they had nearly accomplished allowed them to feel a little bit better about it.
Said Lewis: "Our guys did about as much as we could do. We made too many turnovers late (six in the fourth quarter). But we stepped up and hit free throws. We are who we are on defense, and we were tough."
The Lions made 10 of their 12 free-throw attempts in the final quarter. Roberts, a perfect 4-for-4, hit both of his with 17 seconds left to tie the game at 48. He finished with 12 points.
"I'm proud of the guys, the way they handled the chaos at the end of the game," Lewis added. "They were focused. They were in the right places at the right time. We had a couple good shots there and just ended up losing it."
Defense beyond the three-point arc kept Lawrence in the game. SM South, which had been held under 50 points just one other time this season (a 47-40 win over Olathe South), hit only one of its 12 shots from downtown. Hofer said the Lions matched up well with the Raiders on the perimeter.
"We hung with them all game," Hofer said. "Just a couple of shots here and there, that's really what it came down to."
Junior backup guard Connor Henrichs provided just the boost LHS needed when Roberts and Mosiman dealt with foul trouble in the loss. Henrichs scored 10 points. Five came in the third quarter, and SMS trailed 34-31 entering the fourth.
Bonner said the Lions will learn to find some satisfaction in the initially disappointing loss.
"You can't be mad," he said. "I'm just proud of the way we played. Great game to learn from and move on."
Lawrence plays host to Olathe East on Friday.
Copyright 2018 The Lawrence Journal-World. All rights reserved. This material may not be published, broadcast, rewritten or redistributed. We strive to uphold our values for every story published.