Olathe — One of these nights, Lawrence High's girls basketball players and coaches will get to leave the floor in a good mood. Friday at Olathe North simply proved neither the time nor place for that.
Photo Gallery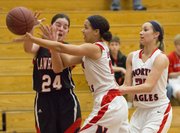 Lawrence High girls basketball vs. Olathe North
Though the Lions played one of their better halves of basketball early on the road, a wretched third quarter led to their seventh straight loss, as O-North prevailed, 39-35.
Coach Nick Wood saw everything he wanted from his team in the first half. LHS (2-13) moved the ball crisply in its half-court offense, rarely threw the ball away and players did all they could defensively to make the Eagles (4-10) struggle for points.
Lawrence, behind four first-quarter points from Kionna Coleman, took a 10-7 lead into the second quarter and, with the help of Jolana Shield's five second-quarter points, led 19-15 at the break.
O-North tried to get the ball inside to its 6-foot-4 senior, Jessica Sheble, but after she scored her team's first two baskets, the Lions harassed her the rest of the first half. Whether it was Bri Anderson's length or Makayla Bell's quickness, they denied Sheble like crazy and the Eagles' offense struggled accordingly. O-North made just three of its next 16 field-goal attempts after Sheble converted two straight in the opening minutes.
The third quarter, however, killed all the good vibes Lawrence had earned in the opening 16 minutes. Coleman opened the second half by hitting a jumper that gave LHS a 21-15 lead, but the Lions missed all eight of their shots the rest of the quarter and turned the ball over four times. Anderson's two free throws with 40 seconds on the clock stopped a 14-0 run by O-North and the Eagles led 29-23 entering the fourth.
"That was the difference in the game," Wood said. "We just got in a bit of an offensive funk there in the third quarter. This league's too good. You can't score four points in a quarter and put yourself in a situation to be successful."
The fourth quarter opened on a positive note, with Anderson (nine points, eight rebounds off the bench) scoring in the paint after snagging an offensive board on Lawrence's first possession. Following an Eagles basket, Shield hit Coleman (13 points) for one her five buckets, and LHS trailed 31-27.
An Emma Kelly free throw with 2:18 left cut the deficit to 31-28, and Shield (eight points) hit her second three-pointer of the game with 1:29 to play, making it a 33-31 ONHS lead. But the Eagles converted just enough free throws (6-for-8) in the final minute to escape with a win.
The most difficult part of losing yet again, Wood said, was that the results haven't been showing how much LHS has actually improved.
"A win's gonna come," he said. "These girls work too hard not to have that successful moment."
Lawrence plays host to Shawnee Mission South on Tuesday.
Copyright 2018 The Lawrence Journal-World. All rights reserved. This material may not be published, broadcast, rewritten or redistributed. We strive to uphold our values for every story published.