Overland Park — No Anthony Bonner? No problem.
Playing without one of its top scorers and most dynamic players on Tuesday night at Shawnee Mission West, the Lawrence High boys basketball team got a little extra from everybody in the lineup and used a second-half surge to race to a 61-50 victory over the Vikings.
Photo Gallery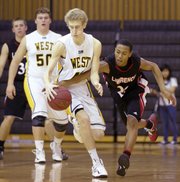 Lawrence High boys vs. Shawnee Mission West
As expected, senior sharp-shooter Jake Mosiman (14 points) and freshman point guard Justin Roberts (19) did their part to make up for the absence of Bonner, who missed the game because of an illness. But winning without him certainly was not easy for the Lions (10-5), at least not in terms of effort.
Senior Austin Abbott, who stands four inches shorter than Bonner, started in his teammate's place and poured in 11 points and six rebounds.
"Austin's a feisty kid," said senior forward Drake Hofer, who helped the Lions' cause with his usual line of a couple of points (4), a handful of rebounds and a whole lot of sweat. "We knew that everyone had to step up a little bit more than normal tonight and I thought we did a good job of that."
Despite entering the game with an upbeat attitude — not necessarily a given considering they were missing a starter and coming off a heartbreaking, two-point, home loss to No. 2 SM East last Friday — the Lions needed some time to feel things out. The two teams were tied at 15 after one quarter and LHS trailed 26-24 at halftime.
Although the first two quarters did not go exactly the way they wanted, the break gave the Lions a chance to evaluate what needed to change. The answer was obvious to upperclassmen, coaches and underclassmen alike.
"I just kept saying that we had to create our own energy," Hofer said.
It worked. The Lions outscored the Vikings 20-8 in the third quarter, turning a two-point halftime deficit into a 10-point lead heading into the final quarter.
"We talked a lot about letting our defense create our offense," LHS coach Mike Lewis said. "And once we started doing that, the game really had a blue-collar feel to it. We just did what we needed to do."
Three different Lions — Mosiman, Connor Henrichs and John Barbee — recorded three steals apiece, and LHS forced SMW into 12 second-half turnovers and 19 for the game. When they weren't ripping and running, the undersized Lions hung tough in the paint, too. West shot just 11-of-31 (35 percent) from the floor and often had trouble finishing in tight. Never was that more clear than in the third quarter, when Roberts, who added six assists and two steals to his game-high point total, skied for a monster block. West's Chris Linner thought he had a clear path to the bucket but was rejected by LHS's 5-foot-9 point guard.
"I don't think he thought I was gonna come around from the back," said Roberts, still grinning about the swat. "So I knew it was my opportunity to get my first block of the season and it felt pretty good. It gave me great energy."
Bonner's status for Friday's game at Olathe North remains day-to-day, but thanks to Tuesday's effort the Lions now have confidence that they can win with or without him.
"I think this shows that we can all play and it doesn't really matter who's on the court," Roberts said.
Added Hofer: "We just want to keep taking steps forward. Everyone on this team has toughness and there's nothing soft about any of us, so if one guy's out, everyone else knows it's up to them to pick up a little bit of the slack."
Early deficit too much for Lions girls
It took the Lawrence High girls basketball team 2 1/2 quarters to join the party, but once it did, things became interesting in a 51-37 loss.
Photo Gallery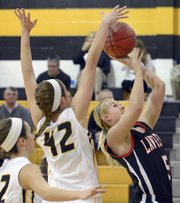 Lawrence High girls vs. Shawnee Mission West
After falling behind 16-6 after a quarter and 28-13 on the opening possession of the second half, the Lions ripped off a 15-6 run that pulled them within six points with 1:25 to play in the third quarter.
During the run, it was the Lions who forced turnovers, played with passion and scored easy buckets in transition. By mirroring what Shawnee Mission West did during the first couple of quarters, the Lions pulled themselves back into the game. But, as is so often the case when one team trails by a large margin early and fights like mad to get back into it, LHS simply did not have enough gas left to keep up the pace. After just two possessions of the fourth quarter, SM West reclaimed a 13-point lead and cruised to the easy victory.
"How we started the game was so disappointing," LHS coach Nick Wood said. "We talked all week, and in the locker room before the game, about how we had an opportunity to come out and compete hard and get a win and then we came out flat, soft and with no energy and were fighting uphill from then on."
Even during the stretches when they lacked energy, Lawrence's defense was effective. The Vikings shot just 42 percent from the floor for the game, but also recorded 15 offensive rebounds — five in the first quarter alone — to make sure that the Lions never got closer than six.
"Unfortunately, disappointing was kind of the key word tonight," Wood said. "We did an awful job of boxing out and gave them so many extra possessions off of rebounds or turnovers and that flat-out killed us."
Junior forward Kionna Coleman led LHS with 14 points and nine rebounds. Anna Wright added eight, including a pair of three-pointers, and the ever-improving Jolana Shield chipped in seven on 3-of-5 shooting for LHS, which dropped to 2-12.
The Lions travel to Olathe North on Friday.
Copyright 2018 The Lawrence Journal-World. All rights reserved. This material may not be published, broadcast, rewritten or redistributed. We strive to uphold our values for every story published.