Outside Michael Bronze's office is a snapshot of him atop a raring white horse — a pose he did not strike on purpose.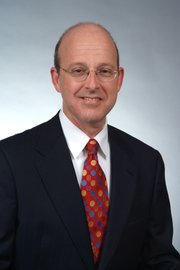 The photo he laughs about now, taken during a staff retreat in Oklahoma, is a good conversation starter and reflects his open-door leadership style, Bronze told Kansas University Medical Center faculty, staff and students on Thursday.
Bronze, professor and chairman of the department of medicine at the University of Oklahoma College of Medicine, is the third KU School of Medicine dean candidate to visit the university for public interviews. He also was scheduled to visit KU campuses in Lawrence, Wichita and Salina this week.
Bronze has led Oklahoma's department of medicine since 2000 and holds positions on a number of national boards and committees. His clinical interests are general infectious diseases and HIV, and he cites top research interests as prevention of group A streptococcal infections, emerging pathogens and graduate medical education.
In a presentation peppered with humor, Bronze shared accomplishments at his current job, including taking the department from being $1.5 million "in the red" to healthy financial reserves and growing a rapidly departing faculty from 85 to about 145 members.
Bronze said KU has experienced remarkable growth "in all the right areas," making it an attractive place to relocate.
If hired at KU, Bronze said his vision for the future would include maintaining a strong workforce, which is what patients and the community see.
"We're only as good as the people we recruit," he said.
Other priorities would include ensuring programs meet and exceed national benchmarks, maintaining institutional strength through fiscal responsibility and growing research while focusing on the school's strongest areas.
"We need to figure out what do we do best and what should we continue to invest in," he said.
Bronze is the last of three finalists whom the dean search committee, formed in February, has invited to campus for public interviews to date.
Candidate Robert Simari, a professor of medicine at the Mayo Clinic College of Medicine in Rochester, Minn., visited in October. Paula Shireman, a professor of surgery and vice dean for research at the University of Texas Health Science Center's School of Medicine in San Antonio, visited last month.
The new dean will replace Barbara Atkinson, who retired in summer 2012. Before a final decision is made, KU Medical Center executive vice chancellor and interim dean Douglas Girod will consider feedback from faculty, staff and students on the candidates, KU Medical Center director of communications C.J. Janovy said.
"We hope the process is nearing completion, but we will take as much time as it requires to ensure the best hire," Janovy said.
Copyright 2018 The Lawrence Journal-World. All rights reserved. This material may not be published, broadcast, rewritten or redistributed. We strive to uphold our values for every story published.