Contact KU and higher ed reporter Sara Shepherd
Have a tip or story idea?
---
More stories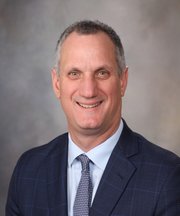 Along with the marathon rounds of tours, talks and interviews, Robert Simari's visit to the Kansas University School of Medicine's campuses as a finalist for the school's dean position had a touch of homecoming to it.
Simari, a professor of medicine at the Mayo Clinic College of Medicine in Rochester, Minn., is a KU medical school alumnus. At an open town hall style talk today at the KU medical school campus in Kansas City, Kan., he pointed to the back rows of Wahl Hall East, where "I sat for most of my time" as a student in the early 1980s, he said.
After graduating from the KU School of Medicine, Simari went to Harvard University's Beth Israel Deaconess Medical Center and the Mayo Clinic for residencies. His faculty research at the Mayo Clinic has focused on understanding and developing treatments for cardiovascular disease, a narrowing or blocking of blood vessels that can cause heart attacks, which is the primary cause of death in the U.S.
At today's talk, Simari noted the risks and challenges facing the KU medical school these days. Among them: uncertainty in federal and state financing, aging campus facilities and a lack of coordination among units, departments and researchers as well as a lack of integration within the KU Medical Center itself.
He also pointed to another challenge the school faces, one taking place outside its campuses. Simari said he would make one of his primary goals improving the public health of Kansas, which, pointing to statistics on obesity, diabetes, smoking and other markers, he said "is not the healthiest state in the country."
The past day and a half has found Simari touring the Kansas City, Wichita and Salina medical school campuses as well as the Lawrence KU campus. His presentation in Kansas City was one of his last stops on the visit.
In returning to the medical school that graduated him, Simari was able to meet with old friends and colleagues from his time as a student. Pam Shaw, now a professor at the KU medical school, said she and Simari often found themselves in "cadaver tanks" next to each other because their last names were so close together in the alphabet. Even then, it was "obvious he was headed for big, bright things," Shaw said.
Simari is the first candidate whose name has been announced by the search committee to pick a dean for the KU medical school. Once initial candidates for the position were selected in the spring, phone interviews began in June followed by on-site interviews in July and August. Another candidate, whose name will be released soon, has been invited back to campus for a visit. A final decision on the new dean is expected later this fall, medical center spokespeople have said.
Copyright 2017 The Lawrence Journal-World. All rights reserved. This material may not be published, broadcast, rewritten or redistributed. We strive to uphold our values for every story published.