Contact KU and higher ed reporter Sara Shepherd
Have a tip or story idea?
---
More stories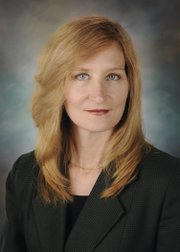 Another finalist for dean of the Kansas University School of Medicine has made the rounds among its campuses to meet with faculty, students and administrators.
Paula K. Shireman, a professor of surgery and vice dean for research at the University of Texas Health Science Center's School of Medicine in San Antonio, spoke on Tuesday at the KU Medical Center's School of Nursing.
Shireman is the second candidate to visit the KU medical school campuses in Kansas City, Wichita and Salina. A vascular surgeon, Shireman's main research is in mechanisms of blood vessel formation and skeletal muscle regeneration. Her work also includes studies of how patients treated for blood vessel injuries, including war veterans, have recovered over time.
Shireman grew up on a pig farm in Indiana, where she took care of the runts of the litter and received an early introduction to biology and death. She joked with the crowd at the nursing school that "my mortality statistics are much better" as a doctor than as the caretaker of the runts, who typically die early.
After graduating from Indiana University School of Medicine in Indianapolis, Shireman completed a residency at Northwestern University and a two-year vascular surgery fellowship at the Loyola University Medical Center. She has been with the Health Science Center in San Antonio since 1999. In her current position, Shireman has helped make grant writing mandatory for the medical school's Ph.D. students and has created a medical education curriculum for middle school students.
In her talk on Tuesday, Shireman emphasized the importance of research to help prepare the next generation of medical professionals and treatments for patients. Shireman also pointed to challenges facing the KU medical center such as decreased funding for research, healthcare reform's impact on clinical practice and the income-debt ratio for medical school graduates. But she said the school should not be daunted by these challenges and advocated data-based solutions to them. "We have to see the opportunities in change," she said. "You're on a very upward trajectory in everything that you're doing."
Shireman follows Robert D. Simari, a professor of medicine at the Mayo Clinic College of Medicine, in interviewing publicly for the dean job of the KU medical school. A search committee formed in February of this year to help pick a replacement for former dean Barbara Atkinson, who retired in the summer of 2012. Richard Barohn, a distinguished professor and chair of the neurology department, leads the committee.
Copyright 2018 The Lawrence Journal-World. All rights reserved. This material may not be published, broadcast, rewritten or redistributed. We strive to uphold our values for every story published.