Only two Lawrence High baseball hitters had an answer for Kansas City, Mo., Rockhurst starting pitcher Joe Huber Saturday afternoon at LHS, and the lack of production negated a quality start from Lions pitcher Brandon Bell in a 3-2 Lawrence loss.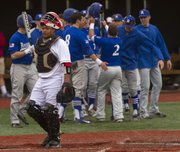 LHS juniors Kieran Severa and Drew Green accounted for all of their team's offense, with a hit apiece in both the first and fifth innings, and Green drove Severa home in both frames.
In a complete-game victory, Huber walked just two batters and struck out three. But because the right-handed senior dealt primarily with fastballs, Lawrence coach Brad Stoll was frustrated about his team's lack of timing and hitting, despite some good swings.
"I thought we were better," the coach said. "I know we're a better offensive team than four hits."
Severa singled in the first, and Green doubled to right to give the Lions (10-6) a 1-0 lead, but then LHS went 15 consecutive at-bats (just more than four innings) without a hit. By then, Rockhurst (13-4) led 3-1.
Lawrence junior right-hander Bell held the Hawklets to two hits and one run through five innings before they finally found some comfort in the top of the sixth, and base hits by Victor Brancato, Vince Saladino, Jack Benninghoff and Todd Czinege produced a pair of runs and Rockhurst's first lead of the afternoon. However, a chance for the visitors to build on their 3-1 advantage, with one out and runners on first and second, disappeared when LHS shortstop Shane Willoughby and second baseman CJ Stuever turned a double play.
The problem in the loss, Severa said, was neither the LHS defense nor Bell (six innings, six hits, four walks, three strikeouts).
"He definitely gave us a chance to win," Severa said of Bell, "and that's all we can ask from him. We need to back him up offensively, for sure."
Again, Severa and Green did their parts in the sixth. Severa led off with a bloop single to center field, stole second and moved to third on a Huber pitch that bounced off the plate. Green then singled to center and cut the Rockhurst lead to 3-2.
But Huber got a double-play ground ball to end the sixth and retired the side in order in the seventh for the win.
Green said Huber worked the outside corners well to get ahead in counts and was effective enough with his off-speed pitches to keep LHS hitters off balance. The Lions were hitless in five of seven innings.
"It definitely hurt us," Green said of the drought. "Our goal is to win every inning. ... We just didn't get it done."
The Lions could have scored one more run in the first. Willoughby drew a one-out walk, and, with Green at the plate, Stoll sent Severa and Willoughby for a double steal. While both runners got good jumps, Rockhurst senior catcher Billy Maloney read the play perfectly and caught Willoughby at second before Green's double.
"That's something you live with," Stoll said. "You know what? It took a great throw. A perfect throw. Hey, as much as we run, as aggressive as we run, we know we're gonna be thrown out every once in a while. If you can throw Shane Willoughby out, you're doing something right."
LHS will play host to Olathe East on Tuesday.
Rockhurst 000 102 0 — 3 6 1
Lawrence 100 001 0 — 2 4 0
W — Joe Huber. L — Brandon Bell (5-2).
2B — Drew Green, Lawrence. 3B — Logan Gray, Rockhurst.
Lawrence highlights — Green, 2-for-3, 2 RBI; Kieran Severa, 2-for-3, 2 SB, 2 R.
Copyright 2018 The Lawrence Journal-World. All rights reserved. This material may not be published, broadcast, rewritten or redistributed. We strive to uphold our values for every story published.