Lawrence-Douglas County Fire Medical crews investigated a natural gas smell in a building on KU's Lawrence campus Monday morning.
KU's Dole Human Development Center, 1000 Sunnyside Ave., was checked for a natural gas leak about 9 a.m., after students and staff reported a smell. Police stopped traffic on Sunnyside Ave., between Naismith Dr. and Illinois Street, while the source of the smell was investigated, but allowed people to pass through to their offices. Some students and staff chose to leave the building, and officials asked people to wait before entering, but did not order an evacuation.
Fire crews declared the building safe about 10:30 a.m.
Representatives of Black Hills Energy working at the building told the fire department that the smell came from a leak in a gas valve outside the building. Some of the gas likely entered the building through an intake vent, said Joe Monaco, a university spokesman.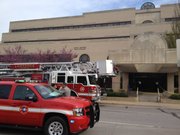 Copyright 2018 The Lawrence Journal-World. All rights reserved. This material may not be published, broadcast, rewritten or redistributed. We strive to uphold our values for every story published.