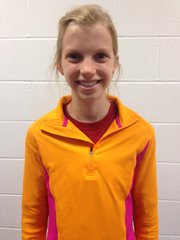 Like many high school track athletes this week preparing for the Kansas Relays, Lawrence High senior Grace Morgan has had Kansas University on her mind.
But Morgan's contemplations on KU go beyond her participation in the mega-meet. Thursday after track practice at LHS, she signed to walk on with the Jayhawks' cross country and track programs, and shared the stage with fellow Lawrence senior Monica Howard, bound for Emporia State.
Morgan reached out to the Kansas coaching staff this past fall after her final cross country season at LHS. Morgan's fall included a Class 6A regional championship and third-place finish in the Sunflower League. Her times were good enough to interest the KU coaches, and after visiting the campus and meeting with them, she made an easy decision.
Now comes the hard part. Morgan aspires to compete year-round at Kansas, from the cross country trails in the fall to indoor and outdoor track the rest of the school year. She knows the returning runners and incoming freshmen who aren't walking on all have a bit of a head start.
"It's a little intimidating in some ways," Morgan said. "I know I'm going to have to work a lot harder in just trying to catch up to those people, but I think it's a good incentive. I'm really lucky that I get to be a part of it."
The Lions senior will run in the 3200 today at KU and the two-mile relay on Saturday. Once she is in a Kansas uniform, she could compete in anything from the 800 to the 5000.
"I don't really know," she said with a laugh.
Though distance running might seem grueling to some, that's the appealing part as far as Morgan is concerned.
"I really like the hard work you have to put into it," she said. "It's one of those sports that's very goal-oriented. It pushes me. … You have to have guts and a good mental state and physical state."
Copyright 2018 The Lawrence Journal-World. All rights reserved. This material may not be published, broadcast, rewritten or redistributed. We strive to uphold our values for every story published.