Having only been together for five months, Brain Food already has five shows under its belt, released a self-entitled EP in March and will release its first music video in early May. The four Lawrence natives comprising the electronic/rock group seem to be wasting no time at all, opening for Lawrence-born Quiet Corral at the Record Bar in Kansas City Friday at 9 p.m. and then performing at KJHK's Farmer's Ball at 8 p.m. Saturday at the Bottleneck, 737 New Hampshire St.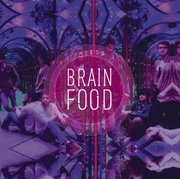 If you go
Quiet Corral and Brain Food will be playing at the Record Bar in Kansas City starting at 10 p.m. Friday There's a $6 cover.
Brain Food will also be participating in semifinals of KJHK's Farmer's Ball at 8 p.m. at the Bottleneck, 737 New Hampshire St. Cover is $5.
It's not by chance these Brain Food and Quiet Corral have paired up for the Record Bar show. Eric Davis, Brain Food's guitarist, keyboardist and band manager, used to play guitar for Quiet Corral. He said Quiet Corral's Isaac Flynn is like a brother to him. Flynn also produced Brain Food's EP, setting up professional studio equipment in Davis' basement, "along with a makeshift vocal booth out of blankets," Brain Food lead singer Demi Renault said.
"We recorded it all over winter break and drove everyone in my house crazy, but I think the product turned out pretty good," Davis said. "We knocked it out fast, taking 120 hours of Isaac's time. We couldn't have done it without him."
Jim Barnes, Quiet Corral's drummer, mixed the tracks, and Brain Food had the EP in its hands by March. It's also available for download on iTunes. While Davis values his experience playing in a band alongside Flynn and Barnes, Davis knows Brain Food is a better fit for him, musically.
"This is the type of music I listen to," Davis said. "I love the stuff [Quiet Corral does] too, but I was definitely sort of a fish out of water on that sort of thing."
Joel Martin, songwriter and keyboardist, and Charlie Moffet, drummer, started Brain Food years ago, playing solely electronic music. It wasn't until they added Davis and Renault that they started working on their goal of bridging the gap between electronic and song-based music.
"A lot of my favorite artists have been merging the electronic feel and style with song-based music like James Blake or Toro y Moi and Thom Yorke's solo work," Martin said. "The style is fun because you can make music that makes people want to dance to that is also interesting to sit down and listen to."
The four members have known each other since high school, and have all worked together at some point — just not in this particular formation. Renault graduated from KU last spring with a degree in music, majoring in voice. Not knowing what her next step was, she jumped at the opportunity for a less-structured musical outlet.
"I am used to being told what to do in classical music and opera," Renault said. "I'd learn the music and have teachers tell me what to do. This is a good experience for me to be more creative."
Moffet has been writing poetry since he was 10, and sees one of the band's main goals to be "getting good lyrics back into music."
Brain Food's first music video, for song "I Am," is expected to be released this May. The video was directed by close friend and Lawrence native Weston Getto Allen, and filmed in Allen's grandmother's Civil War-era house.
"We had the idea that the house was purgatory and that we couldn't get out," Renault said.
"It's pretty abstract, kind of psychedelic," Davis said. "He makes us look cooler than we are. We are lucky to work with [Getto]."
Allen's latest project as production designer, promotional artist and assistant editor is a short film called "Spirit of 68."
His work can be found on gettoallen.com or his Facebook page.
Copyright 2018 The Lawrence Journal-World. All rights reserved. This material may not be published, broadcast, rewritten or redistributed. We strive to uphold our values for every story published.