After a 10-2 loss to Olathe Northwest Tuesday, Lawrence High softball coach Nick Wood and the Lions couldn't help but feel they only had themselves to blame.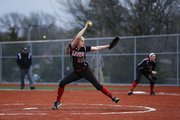 Lawrence (4-7) hit the ball well early, and took a 2-1 lead in the third inning. However, the Lions' bats cooled after that on a frigid evening, and the Ravens (5-3) capitalized on a series of LHS mistakes in the fifth to score five runs and take a commanding 8-2 advantage.
Wood said the loss aggravated the Lions, because they had played well the first three innings.
"Then, all of the sudden, defensively we start hurting ourselves," Wood said. "We start walking batters, we start committing errors, we're giving them extra outs and extra bases. Against a good team like that, you just can't do that."
The majority of those gaffes came in the top of the fifth after a close play at the plate. ONW had runners on the corners and no outs when Mikayla Warren sent a bunt down the third-base side. LHS pitcher Megan Sumonja fielded it perfectly and gunned Warren out at first. Upon seeing Sumonja make the throw, Kelsey Wright took off for home and Lions first baseman Kristen Gile made a timely throw to catcher Katie Murrish at the plate. Wright was ruled safe at home, giving the Ravens a 4-2 lead.
"That's a play that definitely hurts," Wood said. "It's a play that could have gone either way and if we get that out there, we're still in the game. All of the sudden, we don't and the wheels fall off a little bit."
But the coach made it clear the LHS mistakes which followed really altered the game. Shortstop Morgan Byrn agreed: "I think what came after it was really what started to beat us down. We just couldn't get back up after that."
ONW batters got ahead in counts, some pitches ended up getting behind home plate and the Ravens tacked on four more runs before the Lions could get off the field.
After Trisha Bell (single), Marly Carmona (double) and Byrn (RBI single) gave LHS three straight hits in the third, the Lions didn't register another base hit until designated hitter Kenzie Garvin blooped one to left field in the bottom of the seventh.
An RBI sacrifice fly by Andrea Mills gave Lawrence its brief, 2-1 lead in the third, and ONW starting pitcher Kelsey Wright retired the next 11 batters.
Said Byrn: "Some of them were just straight to people. You can't really do anything about that."
Even when they fell in a six-run hole, Wood said the Lions felt as if they could dig themselves out in the next three innings, but nothing materialized.
"You give their pitcher a big lead, maybe she gets some confidence and we lose a little confidence," Wood said. "We just didn't get runners on base and give ourselves a chance to be successful."
LHS is off until April 23, when the Lions travel to Leavenworth.
Olathe Northwest 001 250 2 — 10 12 0
Lawrence 002 000 0 — 2 8 1
W — Kelsey Wright. L — Megan Sumonja, 3-4.
2B — Maddie Boland, Reagan Hathaway (2), Wright, Olathe NW; Marly Carmona, Lawrence.
Lawrence highlights — Carmona, 2-for-3, R; Morgan Byrn, 2-for-3, RBI; Kenzie Garvin, 2-for-3; Andrea Mills, RBI sac fly.
Copyright 2018 The Lawrence Journal-World. All rights reserved. This material may not be published, broadcast, rewritten or redistributed. We strive to uphold our values for every story published.