The way Lawrence High's baseball team looked in the batter's box in the first inning Thursday at home against Shawnee Mission East, no one would have guessed the Lions would struggle to find a hit the next six innings and lose, 8-4.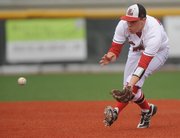 The Lancers took a 3-0 lead in the top of the first, and it didn't seem to bother the Lions one bit. CJ Stuever knocked a ground-rule double onto Louisiana Street to lead off, and Kieran Severa followed with a double of his own down the right-field line. They were driven home, one at a time, on sacrifice flies by Shane Willoughby and Drew Green.
But after Severa's high-flying double, the Lions failed to produce a hit in their following 27 plate appearances against Lancers left-handed starter Trey Austin and right-handed reliever Max Sanborn. Lawrence (6-2) was down to its last out in the bottom of the seventh when a Willoughby single gave LHS its third and final hit of the loss.
"The first time through, we were crushing the ball," a frustrated Willoughby said. "The first four hitters, we smoked the ball. And then (Austin) started changing speeds."
LHS coach Brad Stoll credited the Lancers (3-3) and their pitchers. Though the Lions drew nine walks between the second and sixth innings, that was about the only way they could get on base.
"They went right at us, and they challenged us, and I thought we put some really good swings on the ball," Stoll said. "It wasn't our night offensively, and there's nights in baseball when your bats aren't your best attribute."
The Lancers, on the other hand, had back-to-back-to-back hits in both the first and fifth innings against LHS starting pitcher Adam Rea, and they plated three runs on both occasions.
"They did a better job of putting together solid at-bats. We'd get a solid at-bat, and then we'd ground into a double play (in both the fifth and sixth innings) or we'd get a solid at-bat and hit a fly ball," Stoll said.
LHS took a 4-3 lead in the bottom of the second when it capitalized on two SME errors. Jacob Seratte led off with a walk and scored the tying run when Rea's chopper down the third-base line was thrown away. Rea advanced all the way to third on the error. Shortly after, he scored when Austin tried to pick off Stuever at first base, and the ball ended up in shallow right field.
But the Lions would never score again, even though they put 11 more runners on base. Stuever said everybody was trying to deliver a game-changing hit when they could.
"We always like to get out to a hot start like we did. We put four runs up in the first two innings," the senior right fielder and relief pitcher said. "Just as the game goes on, people start pressing. They're trying to hit doubles, hit balls off the wall."
Willoughby agreed and pointed to several solid plays in center field by SME junior Mitchell Tyler (he dove to snag a line drive off Easton Barnes' bat in the sixth) as some of the reasons for the LHS loss.
"I think we were getting a little ahead of ourselves," Willoughby said, adding that the Lions might have felt too comfortable after the first inning. "We've got to be able to put more runs on the board than that."
Lawrence will play host to Topeka Seaman at 6 tonight. The Lions will be the visitors because the game was moved from Topeka due to poor field conditions.
Shawnee Mission East 300 230 0 — 8 10 3
Lawrence 220 000 0 — 4 3 1
W — Trey Austin, 1-1. L — Adam Rea, 2-1. SV — Max Sanborn.
2B — Joey Wentz, SM East; CJ Stuever, Kieran Severa, Lawrence.
Lawrence highlights — Stuever, 1-for-3, BB, R; Severa, 1-for-3, BB, R; Shane Willoughby, 1-for-2, RBI, BB.
Copyright 2018 The Lawrence Journal-World. All rights reserved. This material may not be published, broadcast, rewritten or redistributed. We strive to uphold our values for every story published.