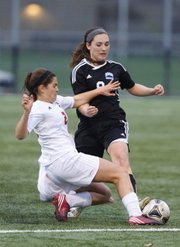 Although Lawrence High's girls soccer team held visiting Olathe Northwest to one first-half goal Tuesday night at LHS, the Lions fell, 6-0.
"We played really defensive throughout the first half," Lawrence coach Justin Young said. "The unfortunate part of that was we began to panic (in the second half)."
The Lions (0-5-1) play at Washburn Rural on Friday at 6:30 p.m.
Copyright 2018 The Lawrence Journal-World. All rights reserved. This material may not be published, broadcast, rewritten or redistributed. We strive to uphold our values for every story published.