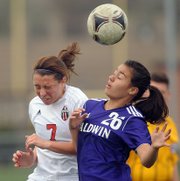 After losing each of their first four games by at least four goals, Lawrence High's girls soccer players thought Monday's home game would give them a chance to end their winless streak.
They were only partially correct. The Lions didn't lose, but a 2-2 tie against Class 4A Baldwin wasn't exactly what they had in mind.
LHS took a 2-0 lead into the second half, but Sierra McKinney narrowed Baldwin's deficit to one in the 53rd minute when she took away a Lawrence pass and fired it off the fingertips of goalkeeper Elsa Regan and into the net.
The Lions (0-4-1) seemed to have regrouped and maintained a 2-1 lead until the 78th minute. But with 2:07 left on the game clock, Baldwin's Kate Dixon took a free kick from near midfield which bounced out in front of McKinney, who put the ball away in the upper-left corner to tie the game.
Neither Lawrence nor Baldwin (0-3-1) would score again in the final two minutes of regulation, nor in 20 minutes of overtime. After the draw, Lions forward Addison Campbell said the Lions were disappointed with themselves. While BHS goalkeeper Morgan Smith (seven saves) and defender Megann Lawrenz had a lot to do with Lawrence's lack of offense, Campbell said LHS lacked the necessary mind-set to win.
"We didn't play well enough, and we just don't have enough heart," Campbell said. "It's tough when you're losing (games), but you can't lose your spirit."
Lawrence coach Justin Young agreed and said mental mistakes also contributed to Baldwin's comeback.
"We absolutely let down," the first-year coach said. "We went up 2-0, it was the first time we've led (this season), felt good about ourselves and let that overwhelm what needed to take place."
It took a little more than a minute for LHS to establish its early lead. After Keeli Billings began a counter attack by pushing the ball up the left sideline, she kicked it ahead for her teammates. Campbell eventually controlled the ball to set up a one-on-one situation against goalkeeper Smith, and Campbell scored with ease to put Lawrence up, 1-0, in the second minute.
LHS didn't create another shot until the 15th minute, but the Lions scored on a corner kick by Anna Kate Kleibohmer. Her kick grazed the top of teammate Kayla Duncan's head a few feet in front of the goal. Duncan redirected the ball's path just enough to confuse the BHS defense, and it bounced into the net for a 2-0 Lawrence lead.
However, LHS couldn't capitalize again, on 14 more shot attempts.
"We definitely needed to win," Campbell said. "Not even just for our record, but for ourselves."
The Lions will play host to Olathe Northwest at 7 tonight.
Copyright 2018 The Lawrence Journal-World. All rights reserved. This material may not be published, broadcast, rewritten or redistributed. We strive to uphold our values for every story published.