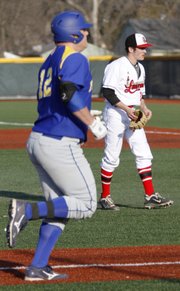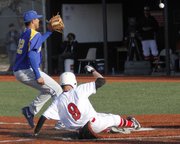 It took some opportunistic plays by Olathe South on Thursday night, but Lawrence High's baseball team lost for the first time this season.
When the Lions made a mistake on the mound or in the field, the Falcons punished them, making for a disappointed LHS dugout after a 7-3 home loss.
"We gave them too many free bases — plain and simple — too many walks, too many hit batsmen," Lawrence coach Brad Stoll said. "And to their credit, man, they took advantage of it. You can get away with it sometimes against an inferior opponent, but Olathe South's a good team."
Lawrence (5-1) initially ran into trouble in the top of the first inning. When starting pitcher Bryce Montes de Oca didn't hit his spots, O-South put runners on base and took a 3-0 lead.
Though the Lions scored to make it 3-1 in the second, LHS reliever Adam Rea had issues of his own in the top of the third. The Falcons (4-1) were down to their last out after Rea picked off a runner, whom he had just walked, at first. Then Rea hit the next O-South batter before senior Brett Nickle smashed a two-run homer out to center field that put Lawrence in a 5-1 deficit.
"Right before the big first baseman comes up, you walk a guy and drill a guy," Stoll said. "And he's gonna make you pay. He got his arms extended on a fastball, and that was really a back-breaker."
The most frustrating part for Stoll was the two teams' hit totals. O-South had four, compared to Lawrence's nine.
"We outhit them," the coach said. "We had tons of hard contacts, and that's the main chart we keep."
Junior Drew Green agreed: "Everything was right at them just about every time," the LHS clean-up hitter said. "We couldn't find a way to get people on base, even though we were doing just about everything right."
LHS sophomore Michael Sinks did all he could at the plate, finishing 3-for-4 with a double.
"It just didn't pan out the way we wanted it to," Sinks said. "We could've done better."
Said Green: "It's pretty disappointing, but it's still early. It's the sixth game of the year, so I'm sure we'll see them later in the year sometime, and I'm sure we'll do better."
The Lions will play host to Leavenworth Tuesday.
Olathe South 302 110 0 — 7 4 1
Lawrence 010 000 2 — 3 9 1
W — Isaiah Campbell. L — Bryce Montes de Oca, 0-1.
2B — Michael Sinks, Lawrence. HR — Brett Nickle, O-South.
Lawrence highlights — Sinks, 3-for-4; Easton Barnes, 2-for-5.
Copyright 2018 The Lawrence Journal-World. All rights reserved. This material may not be published, broadcast, rewritten or redistributed. We strive to uphold our values for every story published.