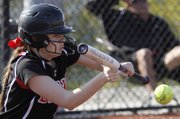 Lawrence High sophomore softball pitcher Megan Sumonja sat in the Lions' dugout Thursday evening, trying to process her six-inning start in the opener of the LHS home doubleheader, a 12-0 Shawnee Mission East victory.
Then in the second inning of the second game, Lawrence coach Nick Wood unexpectedly called Sumonja's name. He needed her to pitch again.
Kenzie Garvin, Lawrence's starting second baseman, severely injured her left shoulder while diving after a ground ball. When Garvin had to leave the game, the only defensive switch that made sense involved Sumonja replacing starting pitcher Amanda Montgomery in the circle and shifting around the other defenders.
Sumonja got over her loss in a hurry and showed composure in pitching five-plus innings of a 5-4 Lawrence victory.
"That's a tough spot to be in," Wood said, giving the pitcher credit for responding when he put her on the spot.
Sumonja admitted the move caught her off guard, but she didn't mind the opportunity.
"You've just got to let the first game go," she said. "You've just got to move on."
Sophomore Morgan Byrn said Sumonja impressed the Lions (3-3), especially after the players and coaches spoke between games about how poorly they had performed in the 12-run loss.
"We all could tell that definitely was not us," Byrn said of getting run-ruled. "We knew something had to change, and that kind of clicked in our head."
While the Lions had just six hits — all singles — in their loss, they pounded the Lancers for 16 hits in their one-run victory. Byrn went 3-for-4 with a double and two RBIs, Marly Carmona was 3-for-4, Katie Murrish finished 3-for-4 with a double and an RBI, and Andrea Mills doubled and went 2-for-4.
Wood said Lawrence's returning players have grown.
"They took their lumps last year going through the league," the coach said, "and the hope is that this year we're able to make a step forward."
LHS didn't buckle under pressure when SME (1-1) began cutting into the Lions' 5-1 lead through four innings. Though the Lancers scored twice in the fifth and added another run in the seventh to cut their hole to one, Sumonja escaped the top of the seventh with help from her defense.
Shelby Harvey knocked a single down the right-field line with two outs, but when she tried to stretch it into a double, LHS sophomore right fielder Jolona Shield gunned her out at second base, where Byrn applied the game-ending tag.
"She's been playing outfield all of two weeks," Wood said of Shield. "She's learning to play the position, and she just made a great play and saved the game for us."
Lawrence will play Tuesday at Olathe South.
Shawnee Mission East 12, Lawrence 0
Shawnee Mission East 204 105 — 12 11 2
Lawrence 000 000 — 0 6 5
W — Rowan Turner. L — Megan Sumonja, 1-2.
2B — Maty Gray, Kassey Hughes, SM East. 3B — Erin McGinley, Hughes, SM East.
Lawrence highlights — Sami Buffalomeat, 2-for-3, Kristen Gile, 2-for-3.
Lawrence 5, SM East 4
Shawnee Mission East 100 020 1 — 4 9 0
Lawrence 112 100 x — 5 16 1
W — Sumonja, 2-2. L — Shelby Harvey.
2B — Huges, SM East; Morgan Byrn, Andrea Mills, Katie Murrish, Lawrence.
Lawrence highlights — Byrn, 3-for-4, 2 RBIs; Murrish, 3-for-4, RBI; Marly Carmona, 3-for-4; Mills, 2-for-4.
Copyright 2018 The Lawrence Journal-World. All rights reserved. This material may not be published, broadcast, rewritten or redistributed. We strive to uphold our values for every story published.