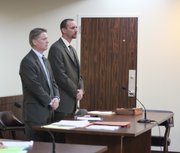 Attorneys representing former Franklin County Sheriff Jeff Curry and former Franklin County Attorney Heather Jones are criticizing the decision to open a sealed court document this week.
The unsealing of the document "violates the fundamental principles of due process which we normally expect in this country," said Robin Fowler, Jones' attorney.
Monday, a judge handling a criminal case against Curry unsealed an ouster petition filed against the former sheriff. The petition included allegations that Jones, while the county attorney, bought methamphetamine from a confidential informant. Curry resigned as sheriff after being charged with obstructing justice and official misconduct for telling Jones — with whom he was having a sexual affair — about the allegations.
But the drug accusation was an informant's attempt to slander Jones, said Trey Pettlon, Curry's attorney.
"All parties who have reviewed the evidence and followed up on the drug-related allegations have confirmed that the (informant's) report was completely false as it related to Heather Jones," said Pettlon, who fought against the unsealing of the documents.
Pettlon also shed some more light on the case, detailing the events that landed his client in trouble.
Last May, Curry, upon hearing that Jones had been implicated in a drug investigation, contacted Jones, who is now an assistant district attorney in Johnson County, and informed her of the allegations.
Jones, upon receiving the information, contacted a prosecutor in the case to discuss the allegations, Pettlon said. At no time, though, did Curry or Jones conceal the fact they had discussed the drug accusations.
The ouster peittion, however, did reveal that Curry lied to investigators when he denied that he was having a sexual affair with Jones.
Fowler strongly denied that Jones has ever bought methamphetamine, and criticized the release of the information.
"The fact that uncharged and discredited allegations have been made public in this manner is unfair, unjust and violates the most basic principles of justice in this country," he said.
On Monday, Curry entered into a diversion program on the charges, which will be dropped after one year if Curry complies with the court-supervised diversion, which is similar to probation.
The Franklin County Republican Party is scheduled to hold a nominating convention Thursday to pick Curry's replacement. That nomination will then be forwarded to the governor's office for approval.
Copyright 2018 The Lawrence Journal-World. All rights reserved. This material may not be published, broadcast, rewritten or redistributed. We strive to uphold our values for every story published.