Johannes Reiber scored twice and the Lawrence High boys soccer team cruised to a 3-1 victory over Shawnee Mission South on Thursday at LHS.
Photo Gallery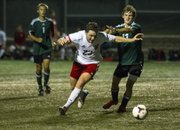 Lawrence High boys soccer vs. Shawnee Mission South
Dalen Reed scored the Lions' other goal. Justin Riley, Parker Davies and Luke Matthews each had an assist in the game.
"I felt like we pretty well dominated the game. It was a bit sloppy at times, but we dominated the game," LHS coach Mike Murphy said.
Murphy lauded the midfield duo of Riley and Conner Murphy on a night when LHS outshot SMS, 15-5.
"We didn't quite finish all the shots we could have, but at least we got three in," Mike Murphy said.
Lawrence (6-3-1) will host Leavenworth on Tuesday.
Copyright 2018 The Lawrence Journal-World. All rights reserved. This material may not be published, broadcast, rewritten or redistributed. We strive to uphold our values for every story published.