News, et cetera, from schools in and around Douglas County: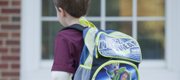 Subscribe to the email edition of First Bell and we'll deliver you the latest local education news and notes every weekday at noon.
• Our Friends and Neighbors photo on Thursday was of a West Middle School teacher and she seemed to have an interesting story to tell, so I called her up.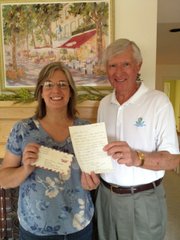 Kristyn Harnar Nieder currently teaches sixth-grade science at West. When she was in second grade at Broken Arrow School in 1972, her class wrote letters to men serving in the Vietnam War. Nieder wrote to Bill Shunk, who was her classmate Mandy's father. Shunk was a major in the U.S. Army commanding a helicopter company in Phu Bai, Vietnam.
Nieder told me that she recently reconnected with Mandy at their 30th class reunion and they arranged to talk with Bill, who also lives in Lawrence.
Nieder has used the letters as a primary source visual aid in her previous fifth-grade American history lessons. She told me yesterday that she's even had the chance to use them this year — she's reading a book with her reading group that has a character writing to his active-duty brother in Vietnam.
The letter in the photo, she said, has a good story in itself. She remembered the cartoon Bill drew — Kansas on the top of the world and Vietnam on the other side — fondly.
"It's fun to share the letters with the kids," she said.
• I wrote about Lawrence High School's contribution to Banned Books Week a few weeks ago. Banned book trading cards will go on display at the public library tonight.
In the meantime, Lawrence High is Kansas' YouTube representative for the 30th annual Banned Books Week and their online representation. See a video of the cards that art teacher Angelia Perkins' class made here. (Librarian Martha Oldham made the video.)
• Know anything that I need to learn? Send news tips, comments or questions to acgarrison@ljworld.com or call 832-6314.
Copyright 2018 The Lawrence Journal-World. All rights reserved. This material may not be published, broadcast, rewritten or redistributed. We strive to uphold our values for every story published.