News, et cetera, from schools in and around Douglas County: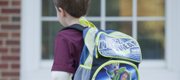 Subscribe to the email edition of First Bell and we'll deliver you the latest local education news and notes every weekday at noon.
• A Eudora Middle School student will be honored Saturday at the Kansas Book Festival in Topeka. Mary Brownback's office announced on Wednesday the winners of the Kansas Book Festival Writing Contest, a competition for third- through 12-graders. Abigail Jackson was one of the first-place winners in the sixth- through eighth-grade category.
• Banned Books Week is coming up. It's Sept. 30 through Oct. 6 and the Lawrence Public Library and Lawrence Arts Center is staging a competition to create banned books "trading cards" — small paper illustrations with information about a book printed on the back. The library will show all submissions and seven winners will be printed and distributed at the arts center.
Lawrence High School teacher Angelia Perkins had students create submissions, which can be seen via the Lawrence High library website.
• Education Week has a recent article on how school librarians can and will help with the implementation of the Common Core — in fact, they may be vital to its success.
The article argues that "when it comes to the common core, librarians can be a school's secret weapon," as it quotes a South Carolina media specialist. Librarians, the argument goes, already help kids synthesize information from a wide range of sources and across disciplines, a major goal of Common Core standards.
• Know anything that I need to learn? Send news tips, comments or questions to acgarrison@ljworld.com or call 832-6314.
Copyright 2017 The Lawrence Journal-World. All rights reserved. This material may not be published, broadcast, rewritten or redistributed. We strive to uphold our values for every story published.