The first time, his teammates were calling for a cross. The second time, his coach was calling for a set play.
On both occasions, Lawrence High senior Robert Lyan made something happen on his own instead, contributing both goals in the Lions' 2-0 victory over Olathe Northwest on Tuesday at LHS.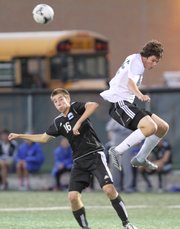 "When you have a guy that can put the ball in the net, you just try to get it to him," LHS coach Mike Murphy said, "and you just let him make a lot of his own decisions."
Both of Lyan's choices ended up being the right ones, with the first goal coming in the 33rd minute following a feed from senior Justin Riley.
Lyan, who took control on the right side of the field just outside the box, originally wanted to shoot before seeing his lane was blocked off.
After sidestepping a defender — and just when he started to hear his teammates call for a cross — he noticed that Northwest keeper Zach Willis had changed his position.
"The defense was up high right in front of me, so I couldn't really pass," Lyan said. "I just saw the keeper come out, and I chipped it."
The shot from outside the box lofted just over Willis' head, bouncing into the left corner of the goal to make it 1-0.
"He just finds a way," Murphy said. "We're just hoping that he keeps doing that."
Lyan tacked on LHS's final goal in the 70th minute after Murphy called for a set play on a free kick.
Lyan ran toward the ball to pass it before backing off to reset himself.
"We got confused," Lyan said with a smile, "so I decided to shoot it."
Once again, Lyan noticed Willis was up a bit too far, and the forward rifled a shot from a few steps outside the box into the top left corner of the net.
"He saw the wall maybe gave him a little crack," Murphy said, "and he hit it."
Lyan, who scored four goals in LHS's last game against Junction City on Saturday, now has 11 goals in the Lions' first seven contests.
The LHS defense also thrived Tuesday night, as Northwest (2-4-1) finished with no shots on goal.
"They played balls that were easy for us," LHS junior defender Connor Henrichs said. "Our defense ... we talked. We man-marked well. We knew where everyone was at and controlled it pretty well."
The Lions have posted shutouts in their last three contests and have allowed just three goals all season.
"Even when (teams) do challenge us, the defense just makes it look easy, because they're in the right spot," Murphy said. "They mark guys up. They don't give anybody any lanes."
LHS (5-1-1) will play at Shawnee Mission East on Thursday.
Copyright 2018 The Lawrence Journal-World. All rights reserved. This material may not be published, broadcast, rewritten or redistributed. We strive to uphold our values for every story published.