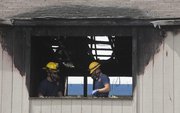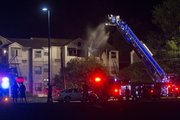 A fire tore through two Berkeley Flats apartment buildings, 1100 and 1104 Miss., about 10:15 p.m. Wednesday, though no injuries were reported.
Firefighters arrived on the scene at 10:19 p.m. to find fire and heavy black smoke streaming from the top-floor windows of apartment buildings 1104 and 1100, said Division Chief Eve Tolefree, a Lawrence-Douglas County Fire Medical spokeswoman.
The incident was under control by 10:46 p.m., Tolefree said.
"I tell you, this was pretty dramatic," said Phil Mansfield, who lives in the building next to the apartments. "There were 10- to 15-foot flames coming out of the window with great billows of nasty-looking, black smoke."
As the fire spread through the top floors of the buildings, all of the occupants of the 12 affected apartments and nearly all of their pets were evacuated safely and without injuries.
"I was studying elsewhere," said Kansas University student Andie McKenzie, one of the apartment occupants. "My neighbors called, and I didn't believe them. I'd imagine there was some damage, but there are worse things in life. I'm still alive; my fish might not be, but it's just a fish."
Jane Blocher, executive director of the Douglas County chapter of the American Red Cross, said that 14 residents were displaced and that Red Cross will provide temporary housing as well as clothing and food allowance for those people.
As of Thursday morning, Tolefree said they did not yet know the cause of the fire nor did they have a damage estimate.
At least one of the displaced residents said they were not yet able to re-enter the affected apartments.
But from the looks of the damage, the worst of the fire was in building 1104 on the south side of the top floor.
Frank DeSalvo, KU associate vice provost for student affairs, was on hand to offer help to the affected KU students. The university will notify the students' professors and help with book rentals and computer replacement.
Copyright 2018 The Lawrence Journal-World. All rights reserved. This material may not be published, broadcast, rewritten or redistributed. We strive to uphold our values for every story published.