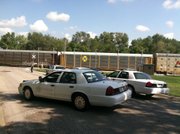 A pedestrian was struck and killed by a train Monday morning in East Lawrence, Lawrence Police Sgt. Trent McKinley said.
Railroad workers called the incident in about 11:10 a.m.
McKinley said officials were not sure exactly where the accident occurred, but the body was discovered just west of the Santa Fe Railroad station at Seventh and New York streets.
About 2:45 p.m., the train was unhitched near the accident site. Andy Williams, a spokesman with Burlington Northern Santa Fe, had said they were awaiting notification from police before operating on the railroad. The tracks were cleared and trains resumed operating Monday evening. The train, which was carrying 55 cars and heading west toward Topeka, was not damaged, Williams said.
Police has no information to release about the victim or the circumstances surrounding the incident Monday night.
Check LJWorld.com for updates.
Copyright 2018 The Lawrence Journal-World. All rights reserved. This material may not be published, broadcast, rewritten or redistributed. We strive to uphold our values for every story published.