Caitlin Broadwell knows her serving routine sounds weird, but she isn't about to mess with what works.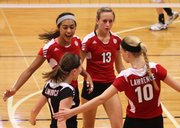 The Lawrence High junior provided a boost for her team during a close first set against Olathe South, serving during a six-point run that helped propel the Lions to a 25-17, 25-18 victory during a home tri Thursday.
LHS also defeated Leavenworth, 25-11, 25-16, earlier in the day.
"It's awesome that we're already improving this early in the season," Broadwell said. "Hopefully, we'll keep on going up."
With her team leading 19-15, Broadwell's jump serve helped push the LHS lead to 24-15. The stretch included a pair of aces.
The six-foot outside hitter admitted she only tried to focus on her routine during serves.
"Every single time I serve, I count how many times I bounce the ball, then right before I toss it, I'm like, 'Good toss. Good toss,' because that's really important with the topspin," Broadwell said. "I think that helped me through it."
She also admits to the superstition of opening her mouth right when she makes contact with the ball.
"When I don't do it, I always miss it," Broadwell said with a laugh. "So I try to focus on that."
Overall, the Lions left happy with the progress they'd made from their last matches.
"Everything that we were working on during practice this week, they really took into the game situations and reacted well," LHS coach Stephanie Magnuson said. "We took a lot of steps forward this week."
Senior setter Brealynn May, who had 14 assists against Olathe South and ended the match with an ace, said the team showed improvement in its receiving, serving and passing accuracy.
"We definitely stepped it up tonight," May said.
Broadwell led LHS against Olathe South with 10 kills.
Against Leavenworth, senior Monica Howard added nine kills.
The Lions (7-4) will travel to Shawnee Mission North for a tri on Thursday.
Copyright 2018 The Lawrence Journal-World. All rights reserved. This material may not be published, broadcast, rewritten or redistributed. We strive to uphold our values for every story published.