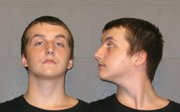 Another home burglary reported
Lawrence police responded Wednesday to a report of a home burglary in the 3900 block of Overland Circle.
The burglary occurred between 11 a.m. and 5 p.m., Lawrence Police Sgt. Trent McKinley said.
Two large flat-screen TVs, a computer and other electronics valued at more than $3,700 were reported stolen. McKinley thinks entry was made through an unlocked sliding glass door.
The Lawrence Police Department has issued an arrest warrant for Cody A. Barnes, 18, of Lawrence, who is wanted in connection with a series of burglaries in Lawrence during July and August.
Lawrence Police Sgt. Trent McKinley said the warrant includes 10 counts: four counts of aggravated burglary, five counts of theft and one count of criminal use of a financial card.
On Tuesday, the Lawrence police issued a news release in which they named Barnes as a suspect in several crimes for which two other 18-year-old Lawrence men, Ronnie E. Taylor and Markcus T. Sanders, already had been arrested and charged.
Taylor is charged with four home burglaries, and Sanders is charged in two.
McKinley said anyone with information about Barnes can call the Lawrence Police Department at 832-7509, or contact CrimeStoppers at 843-8477. Those with information that leads to a conviction may qualify for a reward of up to $1,000.
Barnes is a white man, about 5 feet 6 inches tall, 150 pounds with blue eyes. Barnes had been living with his parents in southeast Lawrence, but his current whereabouts are unknown, McKinley said.
Copyright 2018 The Lawrence Journal-World. All rights reserved. This material may not be published, broadcast, rewritten or redistributed. We strive to uphold our values for every story published.