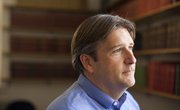 -->
In 2008, 48.5 percent of young adults ages 18 to 24 in the United States voted in elections, compared with a high of 52.1 percent in 1972. From this data, many people might construe that young Americans are becoming less involved in their country's political process.
But according to Kansas University communications assistant professor Jay P. Childers, the figures mainly reflect a changing definition of political involvement rather than apathetic young voters.
For the past several years, Childers has researched decades of high school newspapers, more than 16,000 pages from 1965-2010, in an attempt to understand the guiding motivations for voting among young adults ages 18 to 24. In August, a book Childers wrote was published that shares the results of his research, "The Evolving Citizen: American Youth and the Changing Norms of Democratic Engagement," through Pennsylvania State University Press.
Childers said his interest in the subject began when he was teaching English at the University of West Georgia shortly after receiving his master's degree. He became interested in his students' apparent disinterest in politics.
"Over time, I got more interested in my students and why they did not seem to be more knowledgeable about politics and didn't seem to really care," he said. "I started with an interest about what was happening with young people, and then I went out and read a bunch of research that had been done by political scientists using survey data, most of whom said young people today were not as politically active."
Childers said he was interested to see whether these negative assessments were true and, if so, why that was the case. Nowhere in his research did he find any voices representing the young people's side of the issue.
"I was bothered by the fact that most of what was being said about young people was being based on survey data," he said. "I wanted to see what young people had to say for themselves. I also wanted to look at young people across time, so instead of doing interviews, I wanted a data set I could look at across time. At some point in conversations with people, the idea of high school newspapers popped up. I got really intrigued by that. This was a place where young people had been talking to one another consistently across time."
'Political consumers'
Through his research, Childers said he found that young adults have changed the way they engage with the world around them. For instance, he said, young adults don't write letters to the editors of newspapers or join membership-based organizations nearly as often as they did in the past. But this doesn't mean they're not engaging in other types of political activities.
"That was one of the more interesting things for me in the project: being able to show across time that they might not be voting as much as previous generations did but they are engaged in lots of other ways in terms of volunteering," he said. "Young people seem to volunteer a lot more than previous generations did. They donate money and goods more than previous generations did as a way to be politically active. There's some evidence that they're political consumers in a way previous generations weren't. Young people are aware that their money has political power."
To gain a diverse sample for his research, Childers examined newspaper archives from seven suburban high schools from metropolitan areas across the country: Boston, Houston, North Kansas City, Mo., Phoenix, Pittsburgh, Portland, Ore., and Washington, D.C. He chose suburban schools because the majority of today's students are enrolled in similar environments, rather than urban or rural schools.
"It turns out 92 percent of young adults still go to public high schools, and over 90 percent of the American population lives in what the U.S. Census calls a 'metropolitan area,' so I got schools that represent the majority of the U.S.," he said.
Clay Barker, executive director of the Kansas Republican Party, concurs with Childers' research and said he's noticed an uptick of donations from younger adults in Kansas.
"I think there's been a marked increase in (donations) with younger people," Barker said. "It's very important to them, and they spend more time on it than in the past. My guess is it's kind of a culture change. In the past, people had more free time and formed these groups, and that was one way to give back. Those have kind of fallen by the wayside. But a lot of people have an instinct to give back to society one way or another. It might be with politics, or recycling or charitable contributions, but I think there's an uptick in it."
Barker cautions, though, that merely donating time or money to a cause does not necessarily change policies in government.
"I think to actually effect change, you need to get an elected official in there who believes in your ideas," he said. "Voting's the best way to do that, but I suppose you can do that in other ways."
Social media
Dakota Loomis, communications director for the Kansas Democratic Party, said he sees the rise of technology as a major factor in the changing nature of political involvement.
"I think it's much easier for young adults to be engaged politically now that we've got platforms like Twitter and Facebook, those sorts of social media that can send a message much faster than you could in the past where there was an emphasis in large rallies or an emphasis on getting volunteers to go picket an organization," he said. "The low cost barriers and the younger people's quicker adaptations to, and higher use levels of, social media means they're much more engaged through social media in a political manner."
Loomis agrees with Barker that filling ballot boxes should still be the end goal of the democratic process with any demographic, but also said that newer means of action and activity can still have a major effect on the political landscape.
"I'm of the opinion that everyone should vote," he said. "We spend a lot of our time convincing people how to vote, but the first goal is that everyone should be engaged in the political process. I think there's a real value to voting from a civic-engagement perspective. Looking at things like a 'like' button, or tweeting a story you agree with — there's something low-cost about that, but it doesn't mean that it's not getting out to a large group of peers and a large group of people and potential activists."
Copyright 2018 The Lawrence Journal-World. All rights reserved. This material may not be published, broadcast, rewritten or redistributed. We strive to uphold our values for every story published.