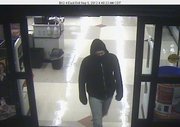 Lawrence police say a man attempted to rob the Dillon's at 1015 W. 23rd St. early Wednesday morning.
The man, with his face covered by a hooded jacket, demanded money from a clerk in the store around 4:30 a.m. The clerk declined the request and told the man to leave, which he did, said Lawrence Police Sgt. Trent McKinley.
No weapon was displayed during the incident.
The suspect was described as a white man, in his 20s or 30s, about 6 feet tall with a thin build, wearing a black jacket and blue jeans.
Copyright 2018 The Lawrence Journal-World. All rights reserved. This material may not be published, broadcast, rewritten or redistributed. We strive to uphold our values for every story published.