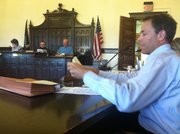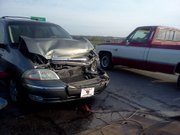 The Douglas County Commission on Wednesday unanimously agreed in principle to a resolution limiting how much towing companies on the county's nonpreference towing list can charge consumers.
"I'm convinced we came up with a good product that's fair," said Douglas County Commissioner Jim Flory. Flory headed an advisory panel formed in April to study towing charges after local residents, towing company owners and the Douglas County district attorney urged the commission to do something about the over-the-top prices some tow companies are charging motorists.
The resolution outlines maximum charges for basic towing services, such as a $150 towing rate for smaller vehicles and $250 for larger trucks. Towing companies would also be limited to a $3-per-towing-mile charge, and $30 per day for vehicle storage. Flory said the panel received input from several towing companies and their attorneys, and looked at similar policies in several Kansas cities that set maximum rates for nonpreference tow charges. No one from the public spoke about the resolution at Wednesday's meeting.
At an accident scene, motorists can choose whatever towing company they want to haul their vehicle. But if the owner doesn't have a preference, the county's emergency dispatch will choose a company based on a rotating list of about 10 area towing companies.
The Lawrence Journal-World reported earlier this year about one Douglas County resident who paid $1,110 for a minivan to be towed six miles after an accident. Under the proposed resolution, such service could have cost as little as $200.
Under the resolution, tow companies on the nonpreference towing list will need to sign a contract agreeing to the pricing guidelines. Commissioners proposed a Nov. 1 start date for the policy. A final resolution is expected to be presented, and approved, at the Sept. 19 County Commission meeting.
Copyright 2018 The Lawrence Journal-World. All rights reserved. This material may not be published, broadcast, rewritten or redistributed. We strive to uphold our values for every story published.