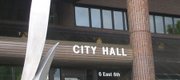 Subscribe to the email edition of Town Talk and we'll deliver you the latest city news and notes every weekday at noon.
News and notes from around town:
• Lawrence hamburger fans, your burgers may be a little less local in the future. Local Burger, the restaurant near Seventh and Vermont streets that made a name for itself by using locally raised beef, has closed.
That's not necessarily a surprise. In early August, we reported Local Burger was likely going to close its Vermont Street location. But owner Hilary Brown said the company was interested in reopening in a new location in Lawrence. Well, there's no sign of that happening currently.
The restaurant recently auctioned much of its kitchen equipment, and my attempts to chat with Brown about the future haven't been successful.
At one point, Brown said she may open a Local Burger food truck that would be a way to keep the Local Burger menu alive in Lawrence until she could find another location. She also mentioned that she was exploring locations in the Kansas City market for a Local Burger restaurant. So, we'll keep an eye out for that type of news.
All this is going on while business seems to be good at Brown's other business — a firm that produces veggie burgers. As we reported in August, Brown's veggie burger brand Hilary's Eat Well is being sold in Whole Foods stores across the country. My understanding is the company also is in negotiations to get the burgers in a major chain of discount stores that has a grocery department as well.
I'll report back if I hear more on either front.
• While we're talking hamburgers, here's an item that you can take for whatever you think it is worth. The Steak 'n Shake location at 3111 Nieder Road in south Lawrence is on the market.
Steak 'n Shake has a long-term lease on the spot, but it is seeking to sub-lease the store location to someone else, according to a published real estate listing from the Cassidy/Turley Commercial Real Estate firm.
But Steak 'n Shake is very much open. I tried to reach the owner of the Lawrence franchise, but had no luck. A manager at the store told me several days ago she had heard of no plans to close the Lawrence location, and said she would have the owner get back in touch with me.
So, who knows what the future holds for that location, which is near the entrance to the SuperTarget shopping center area. I just pass the information along because I know how much you all like food news — and speculation.
• If you like speculation, it appears an oldie but a goody has some new life to it: The idea of a resort complex at Clinton Lake.
An alert reader pointed out to me that Michael Pearce, the top-notch outdoor writer for the Wichita Eagle, reported in one of his blogs that the idea of a Clinton Lake resort is getting some discussion.
Pearce had the joy of attending a meeting in Great Bend for the Kansas Wildlife Parks and Tourism Commission. (Some guys get all the luck.) He reported that Robin Jennison, who leads the state wildlife and parks department, indicated the "state is looking into sponsoring a resort to be built at a Kansas lake. Clinton Reservoir currently seems to be the most likely choice."
Pearce didn't report any more information than that in his blog. But the subject certainly has created quite a bit of discussion over the years.
The most recent speculation about a resort at Clinton Lake came in 2006 when the Kansas Department of Commerce commissioned a report to study the potential for resort development at Kansas lakes.
Clinton Lake ranked high in that report. The report found that Clinton Lake's proximity to population areas, along with an expected surge in baby boomers coming to the area, makes it a good choice for a resort development. The report estimated that demand would exist for a 150-room hotel with 18,000 square feet of meeting/ballroom space. In other words, not a full-blown convention center but a start on one. The report also mentioned there was potential to build some primary residences around the lake, a resort spa, more marina slips and an 18-hole golf course. (Current golf course operators, I believe, would tell you that it would make more sense to stick your mouth over a rotating sprinkler head than to open a new golf course at the moment.)
Before that report, there actually was a pretty serious proposal in 2001 to build a resort on state park land. A group of out-of-town developers proposed building a $20 million, 150-room hotel and conference center on the shores of Clinton Lake.
Supposedly, they raised $15 million of the $20 million needed to fund the project, but threw in the towel after they couldn't get local government officials to show any enthusiasm for the project. At least that's what I reported. I don't have much recollection of the story. Our archives show it ran on Sept. 12, 2001, which means exactly no one — including me — paid any attention to it.
But this morning I read up on it some more, and the development group was getting pretty creative in trying to make the project work. It even pitched a plan for Kansas University to actually own the hotel as a non-profit entity, and the development group would run it for a fee. I don't think that ever got very far, but it is intriguing.
It is kind of funny to think now that the project was getting resistance from elected officials over a request for about $5 million in incentives, with a good chunk of that being the extension of city infrastructure to the site. As the proposed recreation center project in northwest Lawrence has shown, extending infrastructure isn't a big deal, if you get the right people excited about a project.
If you want a get a kick though, read a couple of the stories from the time period. It was a bit of a different time — before TIFs and special taxing districts — in terms of what governments were willing to do to attract a business project.
Copyright 2018 The Lawrence Journal-World. All rights reserved. This material may not be published, broadcast, rewritten or redistributed. We strive to uphold our values for every story published.