The lead developer for a proposed resort at Clinton Lake State Park said the project was dead and likely wouldn't be revived unless local government leaders show support for it.
Dave Mashburn, a partner with Clinton Lake Hotel Developers LLC, said his company wouldn't meet a state-imposed Oct. 1 deadline requiring the project to show "substantial progress" in raising funds for the much-talked-about 150-room hotel and conference center on the shores of Clinton Lake.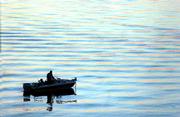 This past week, Mashburn said he didn't need another month to know that the project wouldn't work.
"I basically told the state in June that I thought the project should be put on hold," Mashburn said. "I was a little bit surprised that they wanted to extend it to Oct. 1 because we don't have any particular plan of action that we're pursuing. We have no new ideas on how to move this forward."
In an Aug. 16 letter, Steve Kelly, director of the Kansas Department of Commerce and Housing's business development division, set the deadline, which is important because the project is heavily dependent on the use of state land and about $1 million in state road improvements in the park.
Some level of subsidy from local governments could revive the project, Mashburn said, but he remains convinced that local officials are thoroughly uninterested.
"The way it is all over the country is that when communities want a conference center, there has to be community participation," Mashburn said, citing the current development of a $92 million conference/hotel center in Overland Park that is receiving city assistance. "That doesn't necessarily mean that the city would have to participate in terms of dollars.
"It's really more of a situation of how willing are they to roll up their sleeves and look for a solution. That is where we kept bumping heads in Lawrence. We never found anyone willing to really look seriously at the project, except the state."
Mashburn said he also believed that there may be some misunderstanding about what the company was asking the city.
Mashburn said it was correct that the $20 million project still needed about $5 million in funding to be viable, but he said the developers never expected the city or other local governments to finance that full amount.
Instead, Mashburn said he believed the project could have moved forward if the city would have been willing to help subsidize the cost of extending water and sewer services to the site, which is a cost that has been estimated at $1.2 million.
"Our financial people told us that if the city would have participated a little that would have given a lot of confidence to bond investors that they weren't the only ones at this table," Mashburn said.
Lawrence City Commissioner Jim Henry, who was mayor at the time developers started talking to the city, said now was just a bad time to be asking for city money.
"I never put a pencil to it (their request), to tell the truth, because in these austere times it is almost pointless to do so," Henry said. "It's fun to talk about all the things that you would like to do, but first you have to take care of your existing infrastructure, and that creates a big drain on the budget already."
Mashburn's group had also unsuccessfully approached both the city and Kansas University about forming a not-for-profit corporation that would have allowed the project to issue tax-exempt bonds.
However, Mashburn insisted that wouldn't involve a financial commitment from the city because the bonds would be backed entirely by hotel revenues and private investors.
Mashburn had argued that the project was worthy of a public investment because it would draw new convention business and spending to the community, although he was unable to say how many new dollars the project would add to the Lawrence economy.
Copyright 2018 The Lawrence Journal-World. All rights reserved. This material may not be published, broadcast, rewritten or redistributed. We strive to uphold our values for every story published.