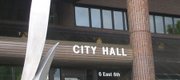 Subscribe to the email edition of Town Talk and we'll deliver you the latest city news and notes every weekday at noon.
News and notes from around town:
• Look for some changes in the near future at Local Burger, the restaurant at 714 Vt. that has made a name for itself by serving locally produced beef and other fare.
There have been rumors that Local Burger is set to close for good in the next few weeks. I checked in with owner Hilary Brown, and she said that's not quite the case. She said it does appear likely that Local Burger will close its Vermont Street location, probably this month. But she said the company is very much interested in re-opening Local Burger in another Lawrence location.
In fact, Brown said she has signed a "non-binding letter of intent" to locate in another Lawrence spot, which she did not identify. In other words, she has identified a space she thinks she can move into.
But here is where the story takes a little bit of a twist. Brown is hoping a new, technology-based way of raising funds will kick-start the effort. Brown is seeking to raise money for the venture through a website called Kickstarter. The website allows people to propose an idea and set a goal for a certain amount of funding. Then people from all over the Internet world can decide whether they want to donate a few bucks to the cause. Lots of projects don't end up raising very much money, but some do. My understanding is that Lawrence film producer Kevin Willmott just this week raised about $54,000 to help fund a movie he wants to make called Jayhawkers, which details Phog Allen's efforts to recruit basketball great Wilt Chamberlain.
Brown didn't divulge many details yet, but she said she'll start her own campaign on Kickstarter, likely this weekend or early next week. Keep an eye out for that.
So, what does all this mean for the future of Local Burger in Lawrence? I'm not sure. What seems fairly likely is that Local Burger will close at its Vermont Street location at some point in the not-to-distant future.
"This really is about transforming Local Burger," Brown said. "It is tired and has lacked capital from day one."
Brown said she is exploring the idea of opening a Local Burger food truck, which she said might be a way to keep the Local Burger brand going in Lawrence until she can open the new restaurant. It sounds like there is also talk of Local Burger having a presence in Kansas City.
• As we previously have reported, Brown also is running a Lawrence-based company that produces veggie burgers. Well, there is big news on that front.
Brown's company recently signed a national distribution deal with Whole Foods, the giant organic grocer. That means that Brown's veggie burgers — which sell under the brand name Hilary's Eat Well — will be sold in every Whole Foods market in the country.
The company is ramping up production, and currently is in about 280 Whole Foods markets. Brown operates the veggie burger business out of rented space in the shopping center at 19th and Haskell. But Brown said the success of the company is requiring her to look at moving the actual production of the burgers to a facility in Kansas City.
Brown, however, said the company has a goal in future years of building a large production facility in Lawrence, especially if the negotiations with several very large national retailers continue to progress.
It appears Brown's timing with the veggie burger concept is good. Apparently the drought is creating some concern among veggie burger producers because many of those products rely heavily on soy, which is being hammered by the lack of rain. But Brown's veggie burger relies a lot on organic millet, which is a pretty drought resistant crop.
Not only is that good for Brown's company, that is just good information to know. Perhaps I should seed my lawn in millet.
• I don't know if they will be serving veggie burgers in their new facility, but at some point in time the Lawrence Community Shelter will be moving out of downtown and into its new home near the Douglas County Jail in eastern Lawrence.
I was chatting with shelter director Loring Henderson on Thursday and he gave me a bit of an update on that process. He said the construction contract the shelter has signed with Lawrence-based B.A. Green Construction calls for the project to be completed by Dec. 21. That would allow the moving process to begin around Christmas.
Look for an official "groundbreaking" — the building is already constructed but needs to be renovated — in the near future.
• Expect in the very near future — as in Tuesday night — a major discussion by city commissioners about the idea of new recreation complex in northwest Lawrence.
The city's agenda for Tuesday includes a large amount of new data about the recreation complex idea, which has been proposed for the northwest corner of Sixth Street and the South Lawrence Trafficway. I'm still sorting through it all, but here are some bits and pieces I've gathered so far:
— The latest plans have grown the facility from 172,000 square feet — as it was presented to the public about a week ago — to about 181,000 square feet. I believe the additional space is being devoted to a larger indoor soccer/turf field than what was originally envisioned. In fact, it looks like there would be ways to accommodate up to three youth soccer games at once inside the facility.
— Consultants hired by the city have put together a draft report that estimates the new indoor fieldhouse and the outdoor track and field and soccer field — the outdoor components would be built by KU — directly will produce about $6.3 million per year in spending in the Lawrence economy. When you use a "multiplier effect," that number grows to $9.2 million per year.
— The project is expected to generate an additional $196,000 a year in new sales tax revenues and hotel guest tax revenues for the city. As proposed, the city will pay $24 million for the facility over a 20-year period.
— The consultants expect the total operating budget of the complex — including both the indoor and the outdoor facilities — to be about $2.2 million per year. (The city will pay for the operating expenses related to the indoor fieldhouse. KU will pay for the operating expenses related to the outdoor track and field/soccer facilities.) The consultant anticipates the complex will produce roughly enough revenue through fees, concession sales and other such items to break even from an operating standpoint.
The numbers, however, aren't separated out to show operating expenses or revenues for the city vs. KU. Just how much it will cost to operate this new fieldhouse — everything from heating and cooling to staffing costs — will be an interesting number to watch. I recently gathered data for several regional recreation facilities, and it appears the operating costs are significant. Johnson County Parks and Recreation spends almost $1 million each year to operate an indoor facility that is less than half the size of the fieldhouse proposed for Lawrence.
— The city has begun to estimate what other types of development may occur on the approximately 130 acres immediately adjacent to the fieldhouse/recreation center complex. If you remember, current plans call for that land to be zoned for commercial uses.
The city is now estimating that the property could house two hotels that would have a total of about 330 rooms. It also is estimating the property could accommodate about 180,000 square feet of new retail development. The bulk of the new development would come from two large retail stores that each would be 65,000 square feet, according to the city's latest estimates.
Other retail uses in the city's estimates include: three sit-down, non-fast-food restaurants; two bars or lounges, four fast-food restaurants, and a couple of convenience stores/gas stations.
All this is subject to change greatly, but the city is trying to make some projections so it can have some idea of how much a special 1 percent sales tax on the property could generate. I'm still looking through those numbers.
City commissioners are expected to review all the recreation center items at their Aug. 7 meeting. But they are not been asked yet to rezone the property or make any financial commitments related to the recreation complex.
I'll try to provide you a more complete article later today.
• I will not, however, be going to Tuesday's City Commission meeting or any other city meeting next week. (Somebody else from the Journal-World will get that honor. I believe staff members are fighting over the opportunity already.) All this is to say, Town Talk will be taking a week off to recharge its batteries. The column will return on Aug. 13. Have a great week.
Copyright 2018 The Lawrence Journal-World. All rights reserved. This material may not be published, broadcast, rewritten or redistributed. We strive to uphold our values for every story published.