As they say in the sports world: Game on.
If Lawrence indeed does build a nearly 180,000-square-foot fieldhouse facility to attract big-dollar youth sports, be assured it will need to lace up its shoelaces tight to take on the competition.

Prosperous Johnson County already has two large, multicourt facilities, and the developers of the Legends shopping area in Wyandotte County have proposed building a youth fieldhouse in Wichita as part of a 400-acre retail complex.
In addition to the competition, Lawrence also may have to face a harsh reality in the business: On-court success doesn't always equate to direct financial success.
Fieldhouse USA in Frisco, Texas — believed to be the largest youth fieldhouse in the country — has attracted large crowds, but by late 2011 its private operator had fallen nearly $1 million behind in lease payments to the city of Frisco because of unexpected operational costs.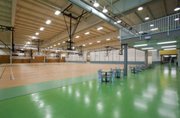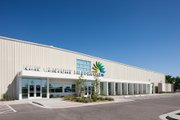 In other words, if the city is looking for a risk-free venture, this isn't it, said Roger Morningstar, who used to own a private Lawrence-based sports fieldhouse — Sport-2-Sport — and is the organizer of one of the largest youth basketball tournaments in the Midwest.
But Morningstar will be rooting for the Lawrence project to succeed.
"I just want everybody to understand that it will take a tremendous amount of effort to make it work in Lawrence," said Morningstar. "But if they somehow can figure out how to make it work, what a wonderful benefit it will be for the community."
The competition
Lawrence city commissioners haven't yet made any decisions about whether this is a game they're ready to enter. But they certainly are doing all the pre-game calisthenics.
City commissioners are deep into negotiations with two private developers and Kansas University about building a youth fieldhouse/recreation center on the northwest corner of Sixth Street and the South Lawrence Trafficway.
As proposed, the project could be as large as 180,000 square feet and include eight basketball courts that could double as 16 volleyball courts. It also would include a walking track, fitness room, indoor turf field and other amenities.

The city also is working with Lawrence developer Thomas Fritzel and Kansas University to allow KU to build a track and field stadium and competition soccer field on the city's 50-acre site.
Now, city commissioners must decide whether they want to throw the public's checkbook onto the playing field. The latest proposal calls for the city to pay $24 million over a 20-year period to Fritzel as part of a lease-purchase agreement, plus the city would pay to operate the fieldhouse facility.
Officials then hope the city would become a major destination for youth sporting events that would attract thousands of athletes and their parents to the city's hotels, restaurants and shops.
It is an idea other cities have too.
Two Johnson County facilities already are up and running. They are:
l The New Century Fieldhouse operated by Johnson County Parks and Recreation in Gardner. The 88,000-square-foot facility, open since June 2011, has four high school-sized basketball courts, eight volleyball courts, a full-size indoor soccer field, and other fan amenities. The facility had a price tag of $8.2 million plus interest costs. (Lawrence's $24 million estimate includes financing costs, and would be about $16 million without interest costs.)
l The Fieldhouse of Kansas City is an 81,000-square-foot fieldhouse at 135th and Quivira operated by a private group. It has eight full-size basketball courts that also can be converted into 16 volleyball courts.
l A third facility in the region is in the planning stages. Goodsports Fieldhouse is proposed to be a $6 million, 53,000-square-foot fieldhouse with six gyms that would target youth basketball tournaments and other youth sporting events. The project would be surrounded by 400 acres of new commercial development near Wichita's new Cabela's sporting goods store.
Jill Geller, superintendent of recreation for Johnson County Parks and Recreation, said Lawrence officials may want to keep their eyes on other area communities as well.
"I hear rumblings of other projects in the Kansas City area," Geller said. "If everything that is dreamed of being built gets built, we absolutely could be oversaturated."
Local challenges
The Lawrence proposal has an interesting distinction to it: It would be the largest project, in terms of square feet, of the regional centers. But it would be in the smallest community from a population standpoint.

Morningstar, who ran Sport-2-Sport from 1996 to 2006, said the population issue is one to keep in mind. Having a large population base allows a center to more easily host its own leagues, which reduces the pressure for a center to make all of it revenues from tournaments.
"Having a considerable amount of population is one of the things you look for to make a center like this work," said Morningstar. "Lawrence doesn't have that, but that doesn't mean it won't work. If you don't have the population, you have to have a tremendous amount of cooperation among the organizations that may use it.
"I think that is what makes Lawrence's proposal unique. The city and the university could really work together to make this something more than a place with just a few gyms."
Morningstar, though, said the city will have other issues it must solve if it hopes to attract very large youth tournaments. He said the city is probably still two to three new hotels away from having enough rooms to accommodate teams and visitors with a large tournament, such as his 200-team, Johnson County-based Jayhawk Invitational that brings more than 4,000 people to a community.
Jerald Good, who is the president of Goodsports Fieldhouse Inc., is looking at building 25 youth fieldhouses across the country — including the one in Wichita. He said figuring out the right size for a facility is a key equation in these projects.
"We have found there is a real balance in terms of what you can spend on one of these facilities versus what it will produce in terms of economic benefit for a community," Good said. "That plan in Lawrence is a pretty large undertaking for a population of 100,000 people, but I would assume the university is going to be a big supporter of the efforts."
The numbers
Indeed, Lawrence leaders believe Kansas University will give the project a significant advantage over other competitors. The university will not contribute any money toward construction or operation of the fieldhouse, but city leaders believe the university's track and field stadium and soccer field will be available to host youth sports tournaments.
Kansas University men's basketball coach Bill Self and his non-profit Assists Foundation also have expressed interest in the fieldhouse. City leaders are hopeful Self's involvement will help attract the attention of youth tournament organizers from across the country.
"We think the fact Lawrence and college basketball are thought of together by so many people across the country will be a marketing advantage," said City Manager David Corliss.
But city officials said they still have some research to do on the project. Corliss has estimated the city will have to subsidize the operation of the facility by about $300,000 a year, but he said that number is subject to change as he gets more information about operational costs.
Operation costs ended up being an issue in Frisco, Texas, which operates a $15.2 million, 142,000-square-foot center with 12 gyms. Between the time the center opened in March 2009 and late 2011, the fieldhouse — which is in the Dallas metro area — fell about $1 million behind in lease payments and had to seek new terms from the city.
Lawrence officials also are working to determine how many tournaments a Lawrence fieldhouse could attract. In the Kansas City area the demand for youth tournaments is strong. The Fieldhouse of Kansas City, which has been open since April, just recently hosted a 165-team tournament. It expects to host basketball tournaments about 24 weekends out of the year. A partnership it has with a local volleyball academy is expected to fill the courts the remaining weekends.
The New Century Fieldhouse expects to host 29 tournaments during 2012, Geller said. For the first six months of the year, the facility has hosted about 132,000 participants and spectators. She also said the financial performance of the facility has been good. Revenues from the fieldhouse are on track to total about $980,000, while operating expenses are budgeted to total about $950,000.
The New Century facility — which has four full-time staff members — is about half the size of the proposed Lawrence fieldhouse. But it isn't yet clear whether Lawrence's operating expenses would be roughly double those of the Johnson County facility.
Corliss said he didn't want to speculate yet on how much it may cost to run the Lawrence fieldhouse. The city is expecting a report next week that details some of the potential economic impacts of a new fieldhouse that Corliss expects to help him better understand potential operating expenses.
City commissioners are scheduled to discuss that report and other fieldhouse issues at their Aug. 7 commission meeting.
— City reporter Chad Lawhorn can be reached at 832-6362. Follow him at Twitter.com/clawhorn_ljw
Copyright 2018 The Lawrence Journal-World. All rights reserved. This material may not be published, broadcast, rewritten or redistributed. We strive to uphold our values for every story published.