Topeka — A 150-room hotel, resort spa and 18-hole golf course at Clinton Lake, along with private lakeshore homes and recreation facilities, make good money sense, according to a state report.
"This study can be used as a development tool for these communities and others," said Steve Kelly, deputy secretary of business development for the Kansas Department of Commerce.
The report, which looked at development potential at several Kansas lakes, was commissioned by several state agencies and done by an outside consulting firm for $100,000.
"We now have a more complete picture of lake development in Kansas," said Tracy Streeter, director of the Kansas Water Office.
Much of the impetus is based on the fact the large baby boom generation is moving toward retirement, and many of its members are searching for more recreation opportunities, second homes and places to retire, officials said.
"There is a demand for development," said Ray Hammarlund, director of community development and agricultural marketing for the Commerce Department.
Clinton and Perry potential
The study analyzed marketplace demands at eight lakes, including Clinton and Perry lakes near Lawrence.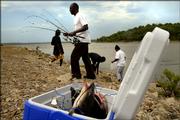 It looked at proximity to population centers, highway access, competition with nearby cities, local attractions and residents' income levels.
At Clinton Lake, the study concluded that demand exists for a 150-room hotel with 18,000 square feet of meeting/ballroom space. It also said there was potential to build some primary residences, second homes, a resort spa, more marina slips and an 18-hole golf course.
Perry Lake could support homes, second homes and a 35-room spa.
Milford Lake, near Manhattan, was seen as having the greatest potential for residential home development - more than 300 houses - because of the expected expansion of nearby Fort Riley.
State officials said the study is simply a tool for local governments and is not meant to affect any current proposals.
"We believe that local communities will have to take the bull by the horns," Hammarlund said.
Federal lands
The biggest job would be to negotiate with the U.S. Army Corps of Engineers, which owns the lakes and much of the property that was part of the study.
"You don't own the dirt, and so if you are going to move forward, the Army Corps of Engineers has to be a strategic partner in developing it," Hammarlund said.
In recent years, the corps has participated in several lease agreements in Oklahoma and Texas to allow development on federal property around lakes.
"Our standpoint is, we are willing to work with anybody to discuss what they want," said Marc Chester, the corps' operations project manager for the Kansas area.
He said more cities and towns are looking for development projects, and the corps is considering ways to more efficiently manage its property.
"We are looking at this as new opportunities," Chester said. "The old train of thought was 'No, it's federal ground, and we will do what we want.'"
But he cautioned that while the corps was willing to discuss expanded recreation, hotel and resort facilities, it was cool to the prospect of allowing private homes on federal land because that would eliminate access to public lands.
Little interest
Lawrence officials say little interest has been shown in developing around Clinton Lake since a proposed resort died in the planning stages in 2001.
"This issue has been discussed off and on over the years," said interim City Manager David Corliss. "Obviously, the concern of extending services would be who pays and what it would do to the state park.
"It's not that we're against it, we just haven't been asked to be for it," he said.
The new study was done by Basile Baumann Prost & Associates Inc., an economic analysis and real estate consulting firm based in Annapolis, Md. Officials said it was meant to complement a study done last year by the Water Office that looked at development potential.
The report can be downloaded at www.kansascommerce.com.
Copyright 2018 The Lawrence Journal-World. All rights reserved. This material may not be published, broadcast, rewritten or redistributed. We strive to uphold our values for every story published.