Kansas City, Kan. — Lawrence High gained 277 first-half yards and cruised to a 57-16 Class 6A district football rout at Kansas City (Kan.) Wyandotte on Friday night.
Despite throwing incompletions on his first four attempts of the game, LHS quarterback Brad Strauss passed for 100 yards, all in the first half, and Tyrone Jenkins rushed for 101.
Lawrence High enters the final week of the regular season and district play in position to win Class 6A District 1 and the Sunflower League. In the Lions' way stands west-side rival Free State, which ripped Leavenworth, 47-14, Friday night.
Photo Gallery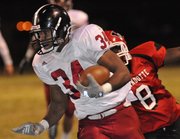 Lawrence High football at Wyandotte
Summary
LHS KCW
First downs 17 10
Rushes-yards 39-322 23-71
Passing yards 100 190
Total offense 422 261
Return yards 52 61
Fumbles-lost 2-1 3-0
Penalties-yards 5-30 13-117
Lawrence 22 15 13 7 — 57
KC Wyandotte 0 8 8 0 — 16
Individual statistics
Rushing
Lawrence: Tyrone Jenkins 11-101, 2 TDs, Brad Strauss 5-92, 3 TDs, Erick Mayo 3-58, Ryan Bellinger 8-39, TD, Drew Green 6-14, TD, Jordan Brown 2-10, D.J. Williams 2-5, Tucker Sutter 1-3, Kharon Brown 1-0.
KC Wyandotte: Xavier McKinzy 9-76, TD, Antonio Moore 5-0, Dimonic McKinzy 9-(-5).
Passing
Lawrence: Brad Strauss 5-9-100, 2 TDs, Drew Green 0-1-0.
KC Wyandotte: Dimonic McKinzy 14-30-190, TD, INT.
Receiving
Lawrence: Drake Hofer 2-35, Will Thompson 1-25, Josh Seybert 1-24, TD, Erick Mayo 1-16, TD.
KC Wyandotte: Mario Garcia 6-111, TD, Xavier McKinzy 4-61, Antonio Moore 4-18.
HOW THEY SCORED
First quarter
8:37 — Brad Strauss 14 run. Jordan Brown run (Lawrence 8, KC Wyandotte 0.)
1:51 — Strauss 25 run. Tyrone Jenkins run (Lawrence 16, KC Wyandotte 0.)
0:27 — Strauss 11 run. Strauss pass failed (Lawrence 22, KC Wyandotte 0.)
Second quarter
9:31 — Erick Mayo 16 pass from Strauss. Jenkins run (Lawrence 30, KC Wyandotte 0.)
4:20 — Josh Seybert 24 pass from Strauss. Kieran Severa kick (Lawrence 37, KC Wyandotte 0.)
0:03 — Mario Garcia 20 pass from Dimonic McKinzy. Damian Reed pass from McKinzy (Lawrence 37, KC Wyandotte 8.)
Third quarter
9:38 — Jenkins 25 run. Severa kick (Lawrence 44, KC Wyandotte 8.)
7:34 — Xavier McKinzy 58 run. Dimonic McKinzy run (Lawrence 44, KC Wyandotte 16.)
2:57 — Drew Green 15 run. Severa kick failed (Lawrence 50, KC Wyandotte 16.)
Fourth quarter
7:37 — Ryan Bellinger 3 run. Severa kick (Lawrence 57, KC Wyandotte 16.)
Both Lawrence and Free State are guaranteed playoff spots, but the city match-up will determine not only bragging rights but the district champion. Free State is the No. 2 team in Class 6A, but the Lions will have the final say whether the Firebirds are even district champions.
The Wyandotte match-up for Lawrence was mostly a waiting game.
"We didn't play with a lot of energy," coach Dirk Wedd said. "Some of that's just because this was a tough game in that we knew who we play next week, and that's a big game for us.
"We prepared for Wyandotte. We just came out flat, and we really just didn't play well. But, again, they're struggling a little bit as a team, and we're just more talented than they are."
On the first play, Lawrence yielded a 55-yard kickoff return to Wyandotte's Antonio Moore, but Bulldog quarterback Dimonic McKinzy fumbled the snap on the first play from the line of scrimmage, then ran for six yards before throwing two incomplete passes to turn the ball over on downs.
Lawrence took over at its own 29-yard line, and Erick Mayo and Jordan Brown went to work on the ground while Strauss threw two incomplete passes. Mayo's 31-yard scamper to the Wyandotte 14-yard line set up Strauss' 14-yard touchdown run, and after a run conversion by Brown, Lawrence led, 8-0.
LHS led, 22-0, after the first quarter and rotated in the second and third string for the much of the game as minds turned to Free State.
"To get our number twos in and let them work," said Tyrone Jenkins, Lawrence's leading rusher Friday, "and getting them reps is what we came out for and to get the 'W.' We got what we wanted mainly as a team.
"Next week, that's going to be our hardest challenge. They're a really good team. They're just as good as we are at passing and running the ball, so we've got to come out and play hard at practice next week and be prepared."
Wedd, who admitted he could not remember the last time Lawrence won district and league, said the Lions will be up against a formidable opponent in the Firebirds.
"They're big and physical," said Wedd. "It'll be a good battle."
"They're mon- ..." he said, presumably about to say "monsters." "You know, they've got a defensive tackle that has been offered by Northwestern, they've got a defensive tackle that's being recruited by everybody in the world. We've got a wide receiver playing one defensive tackle, and we've got a midget golfer playing the other, so we're just going to have to suck it up and grow up and play hard with a lot of heart."
Ryan Bellinger entered the game at running back for Lawrence in the second half and ran for 39 yards on eight carries. Late in the first half, Josh Seybert received a 24-yard diving touchdown catch in the end zone from Strauss. Everyone was on display for the Lions in a game that did not present a real challenge.
Copyright 2018 The Lawrence Journal-World. All rights reserved. This material may not be published, broadcast, rewritten or redistributed. We strive to uphold our values for every story published.