Lawrence High volleyball lost its final two home matches of the regular season on Senior Night at LHS. The Lions fell to St. James, 25-10, 25-20, and lost to Blue Valley North, 25-12, 25-15.
Photo Gallery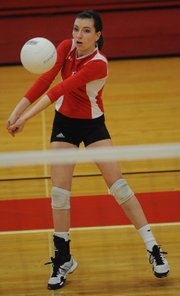 Lawrence High volleyball vs. St. James
LHS (16-17) will be tested again on Thursday at Free State and at sub-state this weekend at Gardner-Edgerton.
"We played some tough competition, so we are ready to go for sub-state this weekend," senior Monica Howard said.
Copyright 2018 The Lawrence Journal-World. All rights reserved. This material may not be published, broadcast, rewritten or redistributed. We strive to uphold our values for every story published.