The Lawrence High soccer team is primed for Thursday's city showdown at home against Free State after dispatching Shawnee Mission North, 6-0, on Tuesday at LHS.
Photo Gallery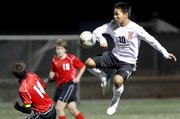 LHS soccer v. Shawnee Mission North
Images from Tuesday night's matchup between Lawrence High and Shawnee Mission North
Justin Riley had three goals and an assist to lead the Lions (8-4-1).
"Two of Riley's three goals were just rockets up high in to the upper-ninety (corner of the goal) so that the goalkeeper really had no chance," LHS coach Mike Murphy said. "Then he would drop back in the center midfield position and control the game."
Johannes Reiber assisted three goals. Conner Murphy scored a goal and assisted a goal, and Dalen Reed and Cedric Fuss also scored goals. Gavin Fischer had an assist.
Murphy said the team controlled the game and ended it with class. "I'm proud of the guys in the second half. Even though they could have gotten greedy and tried to play direct and score," Murphy said, "they held the ball and ran the clock and showed good sportsmanship."
Goalkeeper Jeff Mekus took the shutout.
Thursday's match-up with Free State (6-7) will begin at 7 p.m at LHS.
Copyright 2018 The Lawrence Journal-World. All rights reserved. This material may not be published, broadcast, rewritten or redistributed. We strive to uphold our values for every story published.